1971 Yamaha DT1MX 250
True Factory MX Version
Limited number imported
Complete 11/1/13
New Rims
New Spokes and nipples
New Tubes and rim band
New Pirelli Tires
New Shocks
New Fork Tube Uppers
New Seat Cover
New Seat Foam
New handlebars with restored original levers.
New Cables
New Grips
New number plate and holder
New chrome, nickle and zinc plating
New paint. All parts stripped and media blasted.
Total rebuild of engine, Carb and Oil pump. Case walnut blasted.
Cylinder head bored 1st over, high temp paint and baked.
New 1st over piston
Exhaust media blasted and industrial spray high temp ceramic coat.
DETAILED PHOTOS BELOW:
The 1971 DT1MX Yamaha was the last of a breed that started in 1967-68, with the first Yamaha DT1 250 Enduro. Never remembered for good handling qualities, the DT1 did have reliability and strength that made it a natural for dirt biking.
This fact was not lost on the go-fast crowd, and soon the DT1 was the object of desire for many a dirt rider in the early nineteen seventies, since all of us were inveterate tinkerers and modifiers, because that's how it was if you wanted to go fast. And we were getting sick of our BSAs and Bultacos blowing up underneath us. Enter the Yamaha DT1.
This was the last of the GYT kitted enduro MX line that started in 1968. When you purchased a Yamaha MX what you got was a stripped enduro with a GYT kit (GYT stood for Genuine Yamaha Tuning). The GYT kit comprised of a different cylinder, head, piston, carburetor and expansion chamber. The rest of the machine was an enduro, devoid of lighting equipment, and sported big white square number plates on the forks, and the flanks of the bike.
The machine was over-built, with crankshaft bearings twice the size of other 250s, and a seemingly indestructible transmission/clutch assembly that took serious abuse and came back for more.
The 1971 was also the year Yamaha started getting serious about producing a real off-road motorcycle, with different spring rates in the forks, and a 21" front wheel. This bike also had some pretty radical porting in its piston-port motor; with a one ring piston and 32mm flange Mikuni carburetor (stock on the enduro was a 28 mm). Also, you could see that the GYT kit was somewhat hand fitted, with ports hand shaped, polished and matched. Neat stuff when you think of the reputation Japanese products had back after WWII.
This was the bike that caught the attention of anyone who raced or rode a dirt bike. For $895.00 out the door, you got a fast, reliable and with minor modifications, a decent handling motorcycle that didn't blow up every other race, and set a new standard for dirt bikes in general. The motorcycle factories in old Europe scoffed at the DT1, until they closed their doors a few short years later that is.
START OF BUILD
The oil tank level window is NOS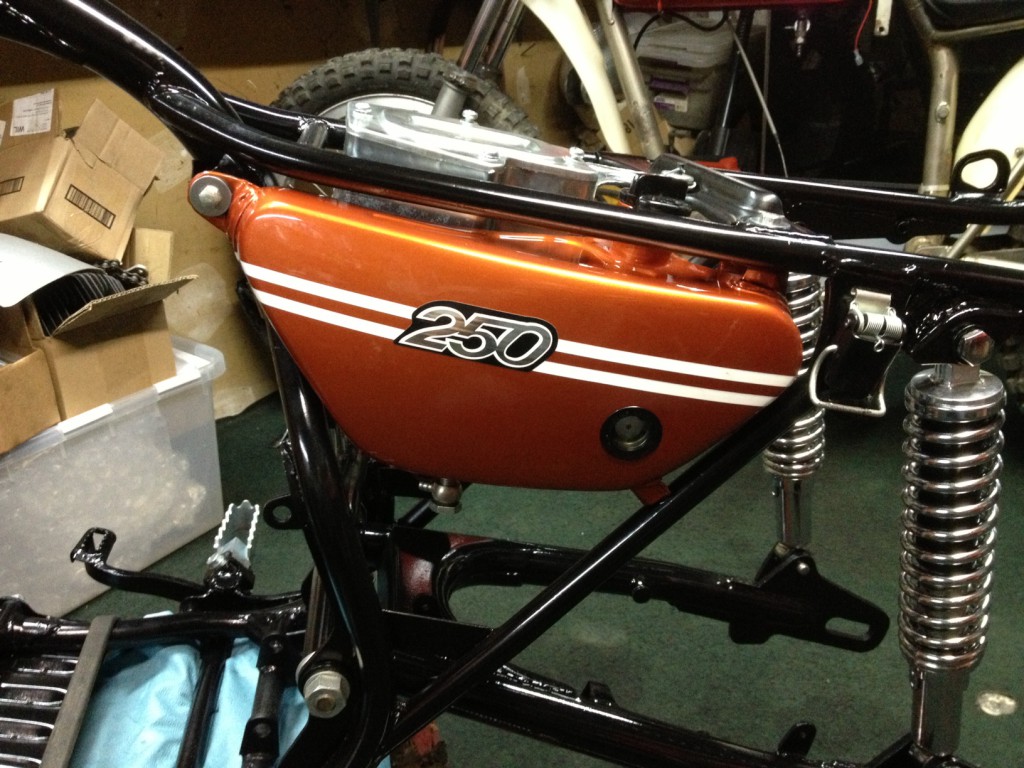 New Foam – New Cover and restored seat base.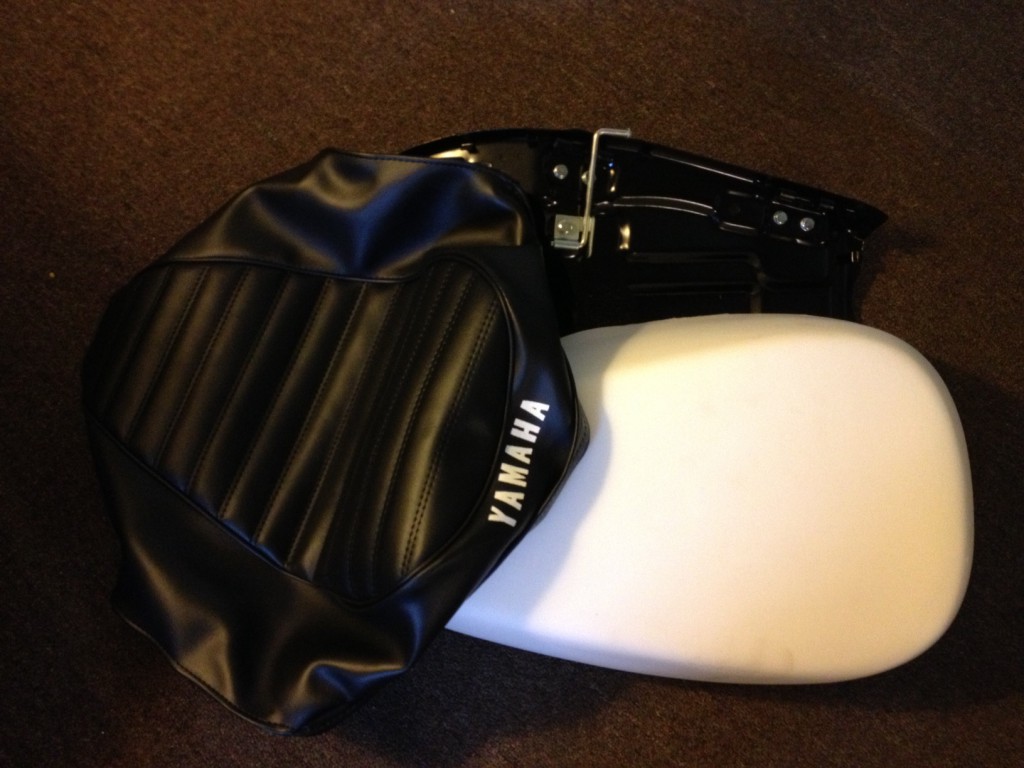 Cylinder bored 1st over for new piston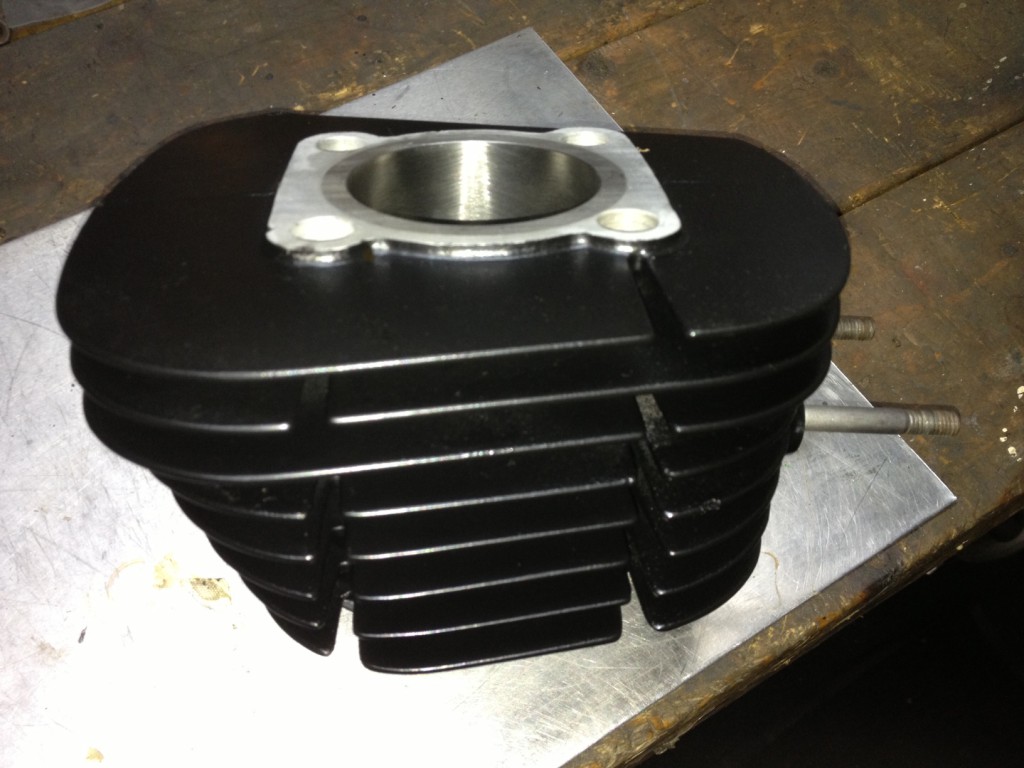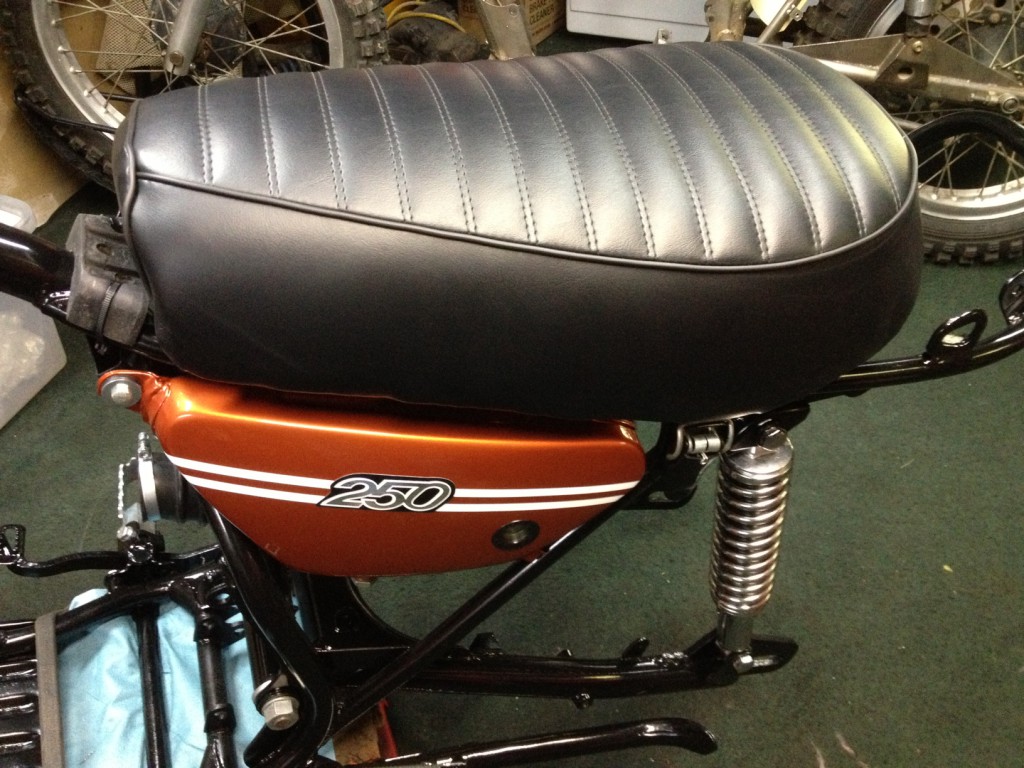 Yamaha badges soon to follow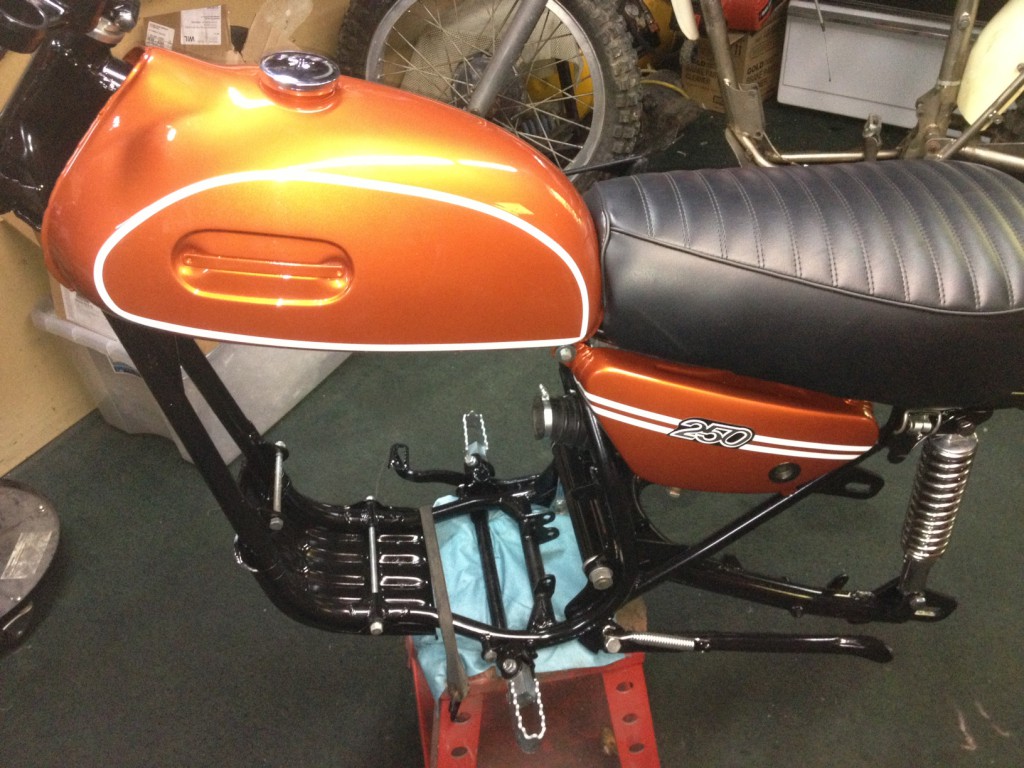 New Handlesbars, Grips, Gray cables and adjusters. Original levers restored