ABOVE IS AN ORIGINAL BIMOTA HB1
FOLLOWING IS MY WORK.
BUILT FROM SCRATCH WITHOUT HAVING ACCESS TO AN ORIGINAL
YOU BE THE JUDGE!
See it in Motorcycle Classics April 2017 Issue
1974 Bimota HB1
1 of 1
SOLD


UNPAINTED CARBON FIBER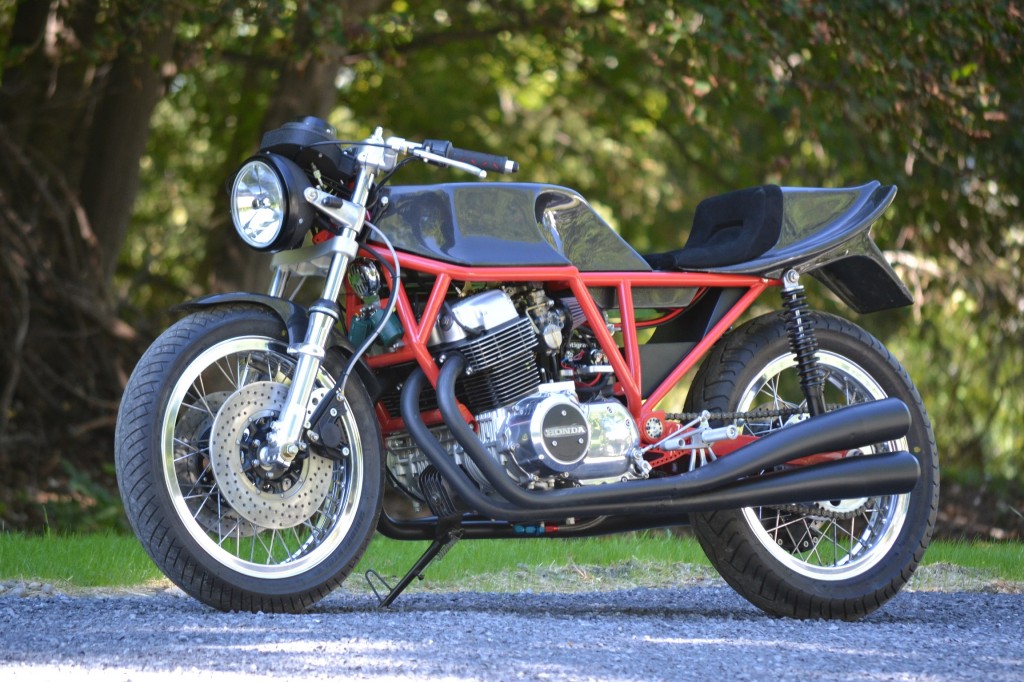 1975 Bimota HB1
1 of 1 and only one in USA
Article by James McBride Silodrome
Article by Chris Hunter Bikeexif
Photography by Ryan Handt  Ryan Handt


Completed Sept 27, 2016
Bimota HB1 (Honda – Bimota 1) CB750
Bimota's first Japanese / Italian hybrid
Carbon fiber tank, Seat fender and front fender
Over 50 custom designed parts all hand made
This is a true Stressed-member frame.
Photo below is of 1 of only 10 original Bimota HB1 750 ever built from BX-1 kit.
It appears there may only be 4 in existence and this clone.
Specifications:
Engine:
Engine CB750K4 1974
Honda CB750 Engine 100% Rebuilt
Engine detailed by Rob
Megacycle Cam
K&N Air Filter
Custom Oil Pressure Gauge by Rob
Custom oil lines with custom CNC engine adaptors by Rob
Dynatek Electronic Ignition
4X4 Custom Mandrel bent exhaust with hand bent megaphone silencers, Magni Style
Custom CNC exhaust hangers by Rob
Titanium and Stainless Steel fasteners
Frame:
Custom HB1 stressed-member frame by FrameCrafters.net , CNC frame parts by Rob
HB1 Carbon Fiber tank
Ducati petcocks
Carbon Fiber seat with leather upholstery and tail glove compartment
Carbon Fiber front fender
Paint and decals as original
Custom front and rear axles
Original type custom CNC eccentric chain adjuster by Rob
Custom axle spacer by Rob
Custom CNC brake disc spacers by Rob
Suspension +
Marzocchi shocks
Brembo front calipers
Caliper mounts designed and CNC by Rob
Dual front disc brakes with modified hub by Rob
Drilled rotors by Rob
Brembo caliper  - rear disc brakes
Brembo rear master cylinder
Brembo master cylinder mount by Rob
New CB750 Front brake master cylinder
Custom made brake lines front and rear by Hel Performance
Fully tuneable Ceriani GP35R forks. Compression, Rebound and Preload adjustable
Custom adjustable offset triple tree, 45mm +/- 2.5mm or +/- 5mm by Rob
Tommaselli Clip-Ons
Tarozzi rear sets
Custom shift and brake rods by Rob
Excel Aluminum shoulder rim
Stainless Steel spokes by Buchanan
Bridgestone BT45 tires
Road race grips
Electrical
MotoGadget M-Unit  with Custom wiring
Micro Processor operated supervised circuits

Hazard warning lights

Internal fusing with current monitoring with automatic circuit shut down

Semiconductor switching

Automatic turn signal shut-off

Programmable flasher Digital brake light modulator with flashing sequence

Integrated Starter relay Automatic headlight turn off during starter routine

Integrated horn relay

Integrated alarm system

LED circuit indicators for active circuits
Ceriani headlight mount with integrated led turn signals
Custom Front Led turn signals  by Rob
Classic tail light housing with LED lighting and signals
Original CB750 headlight with Halogen Tri-Bar lamp
Original CB750 Handle bar controls
Original CB750 Tachometer with custom Bimota HB1 dial by Rob
Dakota Digital Speedometer
Custom Dashboard and indicators by Rob
Anti-Gravity lithium battery
Custom CNC battery/solenoid tray by Rob
Solid State regulator/rectifier integrated into custom CNC starter cover
This is original Bimota HB1

In September 1972, Massimo Tamburini crashed his Honda 750 Four at the Misano racetrack. The accident left him with three broken ribs. If the accident hadn't occurred, Bimota may never have come into existence. While Massimo was recuperating, he constructed a tubular steel frame that could withstand the horsepower being produced by the big Japanese manufacturer's engines. The frame Massimo constructed lowered the center of gravity and reduced the weight of the original Honda. With the creation of the HB1, the Bimota was born. Only ten of these bikes were ever produced.
The Bimota name was derived from its founder's initials; Bianchi, Morri and Tamburini. However, it was the enthusiasm and engineering excellence of Massimo Tamburini that carried the Company to success. In the 1970s, Bimota produced racing frames that caught the attention of serious bike racers. Frames such as the YB1, YB2, YB3 and HDB1, HDB2 and SB1, were of superior quality and the perception of what a racing bike should be was changed forever.
Only 10 of the HB1 were built. None of them was designed to be street legal, they were all meant to be race bikes. The mos it beginst famous driver was Luigi Anelli, who raced a HB1 in 1973. Today, this is probably the most sought after special framed Honda CB 750 SOHC/4 bike.
………..now it begins.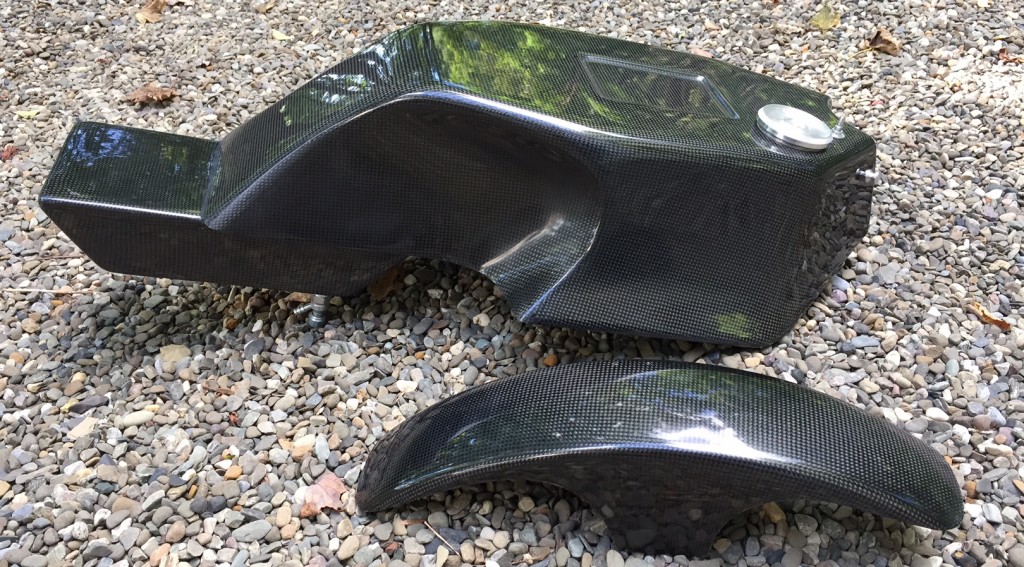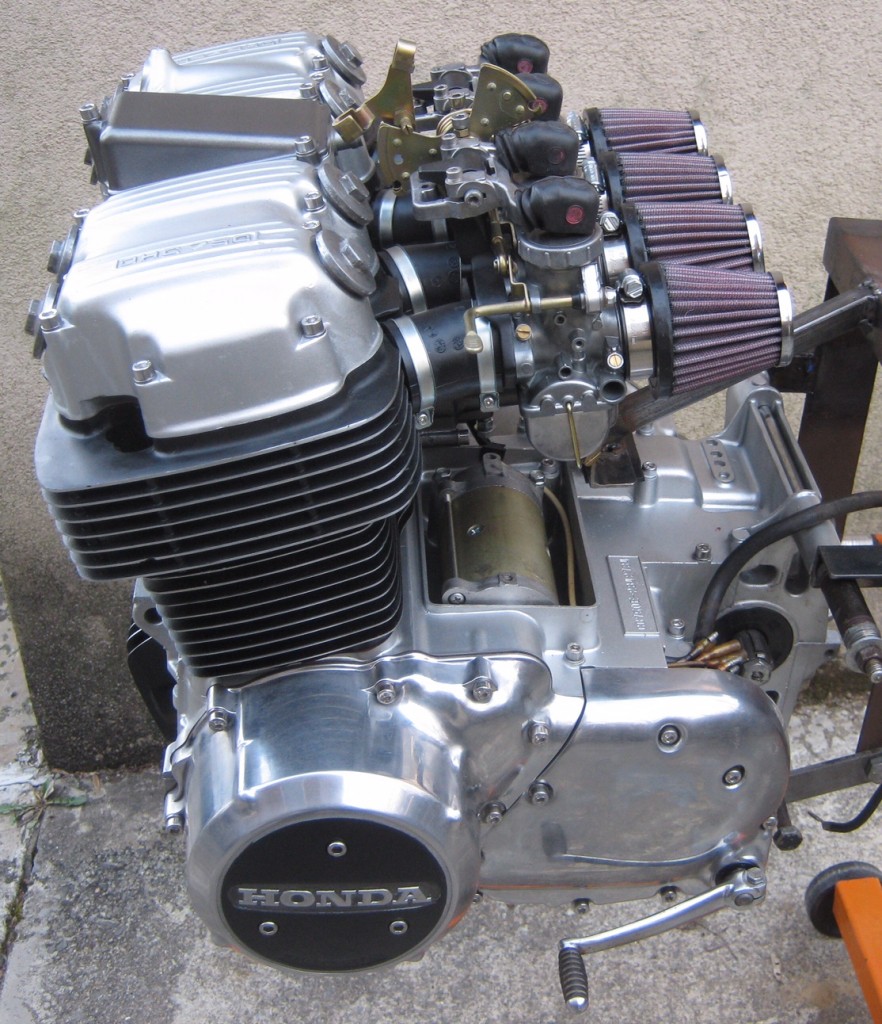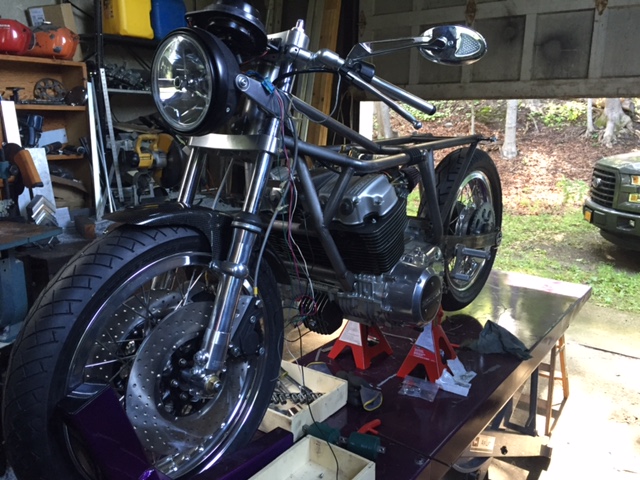 https://www.instagram.com/p/BItL3rwANJk/?taken-by=huskyrestoration