Baja Project
Custom Racing 1970 Husqvarna 400 Cross
Motorcycle Picture of the day. http://motorcyclepictureoftheday.blogspot.com/search/label/Husqvarna
Feature Article by Rick Sieman Offroad.com
When I first saw the photos of the Baja Husky prepared by Rob Phillips, I thought it was just another neat old Husqvarna. But as I studied the photos and saw the enormous amount of work put into the bike, I realized that this was way beyond a typical restoration. I contacted Rob and got some details. Off-Road.com -Rick Sieman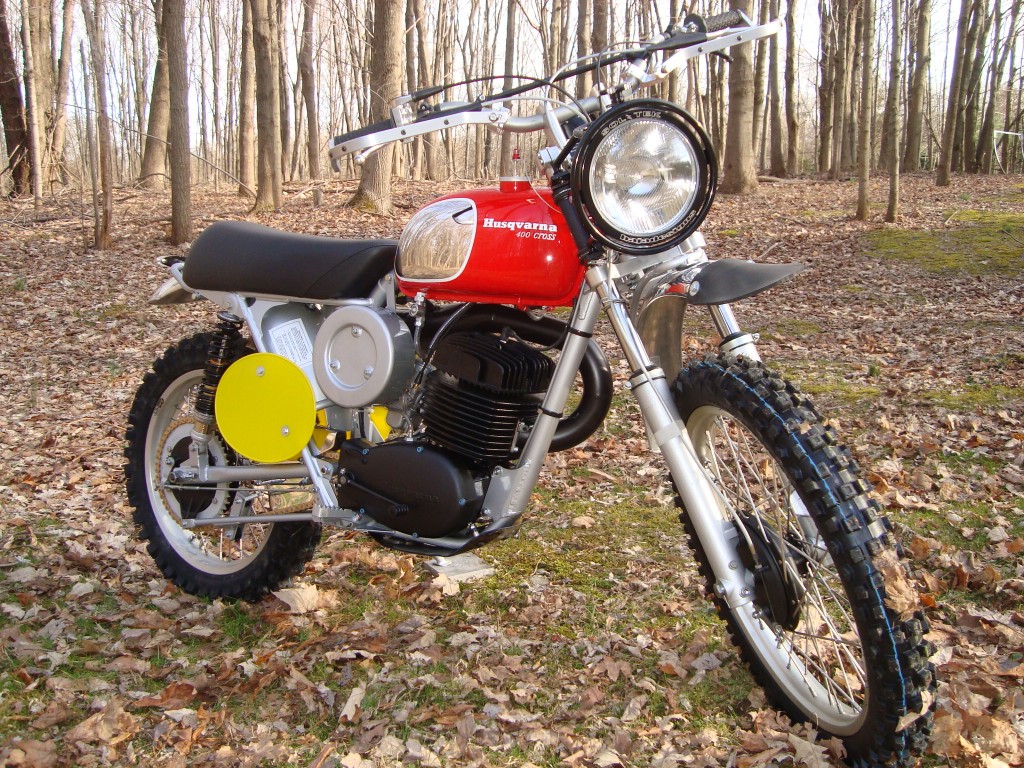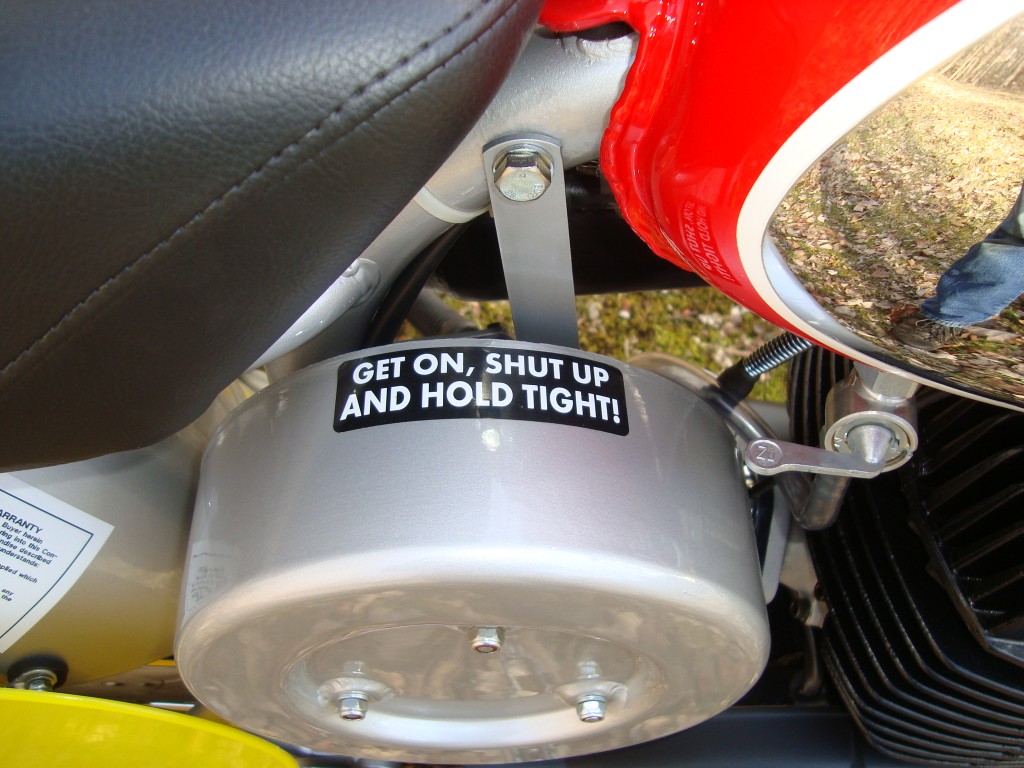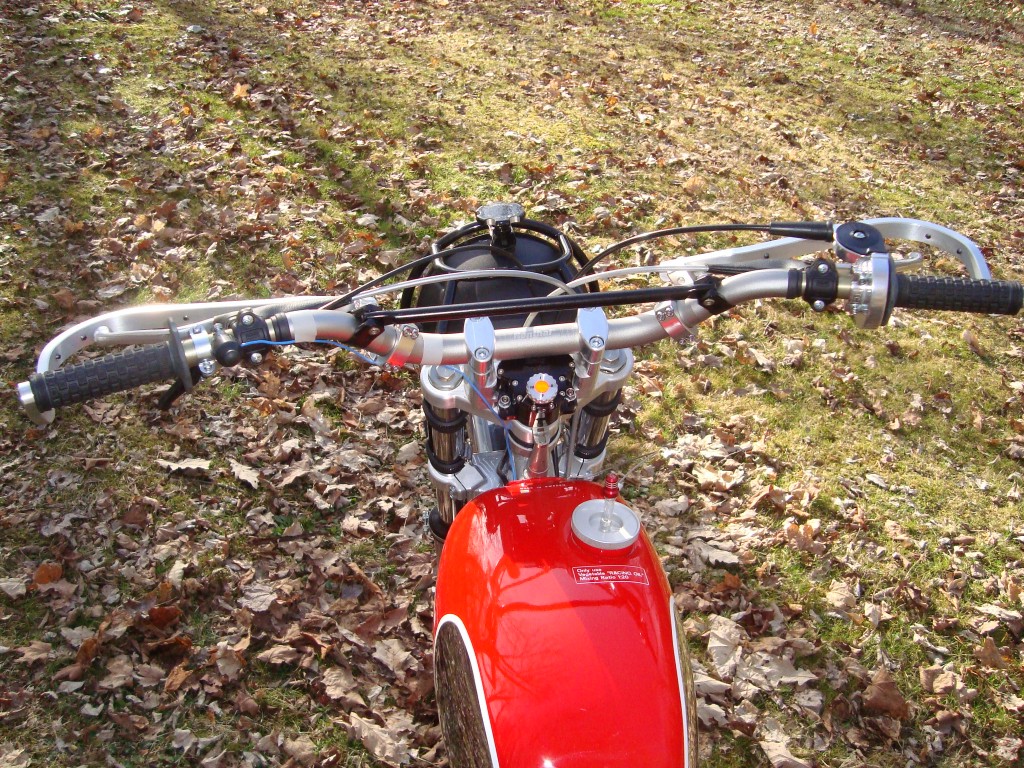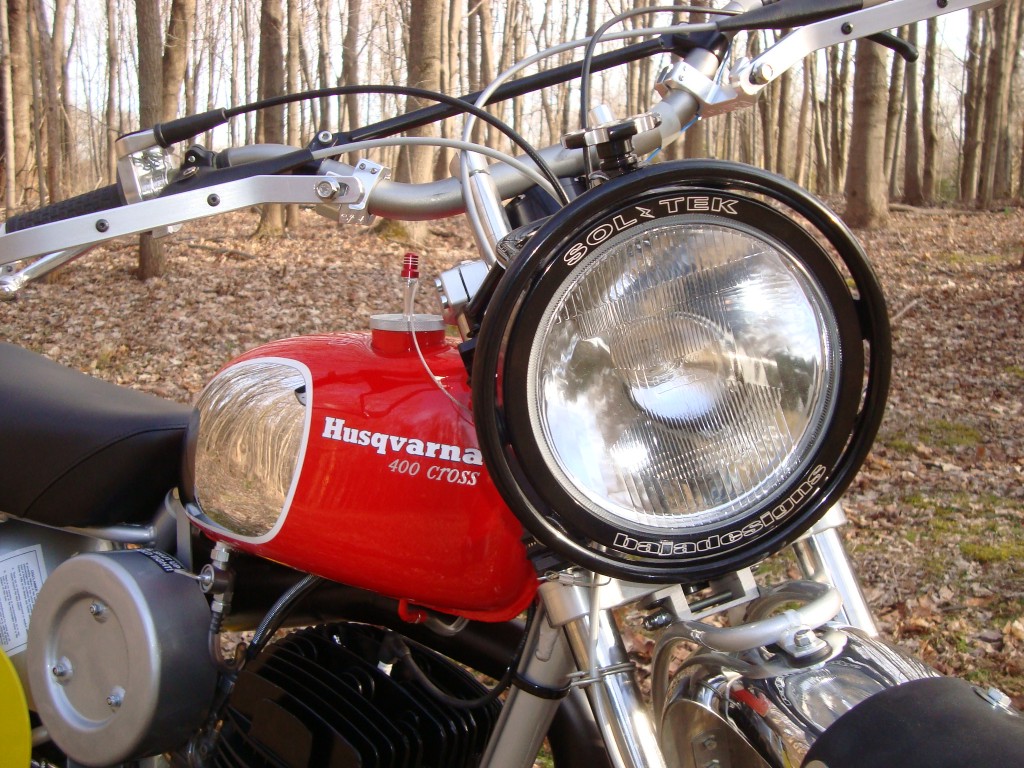 Component details
New Renthal tapered handle bars with Pro Taper Pillow grips.
New Magura split perch levers, covers, Gunnar throttle, remote choke, kill switch and all new cables.
New Brush bars.
New CNC triple tree and extra large taper steering bearings from John at Vintage Husky. I had to modify for steering stabilizer and original fender mount.
New under bar steering stabilizer with 1 1/8 handle bar mounts
Rear swing arm original but stretched one inch and new swing arm bushings.
New Ohlins 607 shocks by Rick Horvat
Front forks are original gray body for classic look with 1974 Husky Black leg internal performance springs and dampeners from John at Vintage Husky. The upper tubes were replaced with NOS set. It took some time to find them after I delivered the bike.
Engine is a original 400 Cross with all NOS gears and main shaft, New fiber clutch plates, new piston and custom modified Ducati connecting rod. Modified cylinder head for second plug. Also included New MZB 75watt electronic ignition. Penton Imports
New Lighting is 8 inch Halogen and LED tail light from Baja Designs Thanks Diego
NOS Exhaust is custom 1970 Bob Bailey aftermarket torque pipe with silencer and modified with 1970 Husky heat shield. The pipe also has the later exhaust hold down springs instead of the troubling clamp style.
New wheels are Sun rims with Buchanan stainless spokes. All spokes front and rear were wire tied
New Dunlop tires front and rear with extra heavy duty tubes.
New Fenders are original aluminum style
New Mikuni carb and NOS ACK intake modified by Rick Horvat. The carb inlet neck is modified with machined grooves to accept o'rings. The o'rings make a perfect seal to the air cleaner bell. It totally eliminates the desert dust from being sucked in through this joint. Thanks Rick. Brillant idea.
A complete set of Mikuni jets from Bear Sports Great source vintage parts and tools. Thanks Mark
Optional 400 Cross skid plate. I added a lanyard between foot brake and skid plate. Old school idea to keep the desert brush out.
Original seat replated and new foam.
New seat cover from VRM Racing Thanks Ray
Original 400 Cross fuel tank with new chrome and paint along with new aftermarket fuel cap, fuel check valve and new petcock. I added a lanyard to the fuel cap so it won't get lost or droped in desert sand.
New EBC grooved brake shoes and springs front and rear. NOS front backing plate.
New Italian wheel bearings and the better aftermarket wheel bearing seals.
All the bolts are highest grade 12.9 Metric and nylon lock nuts.
Top of the line chain. DID ERV3 X-ring with riveted master link with NOS front and rear sprockets.
Air cleaner bell is later 1973 version for better air channeling with 70's aftermarket aluminum filter ring.
Air cleaner cover is original restored but has reinforced mounting holes.
Foot pegs are New high grip aftermarket from AMS Racing.
Thanks Tommy for your support. Phase 1 Demolition
Steering stabilizer post.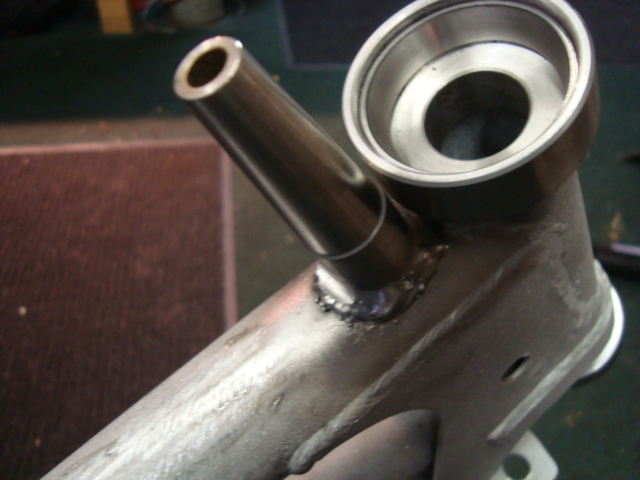 Rear and front hub get new bearings from Italy and new seals.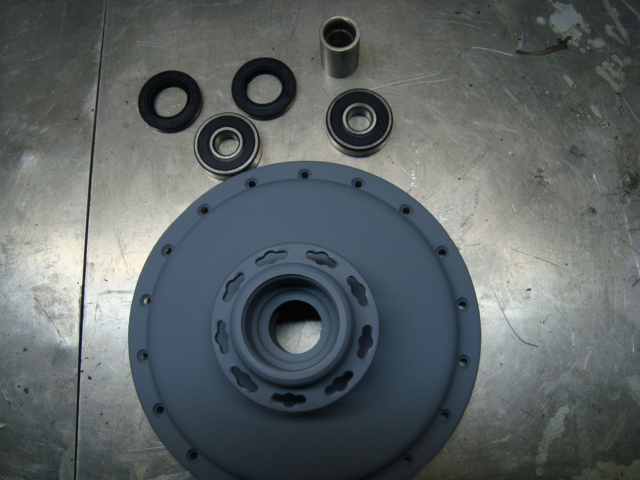 New swing arm bushing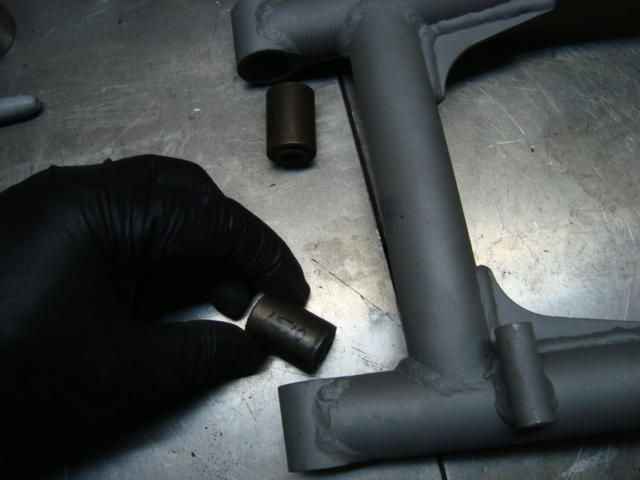 Original front and rear hubs restored. We will have an extra set of wheels.
A few parts ready for paint. Non-Original foot pegs for better grip. Since the swing arm is stretched so I made a extra brake stay just in case.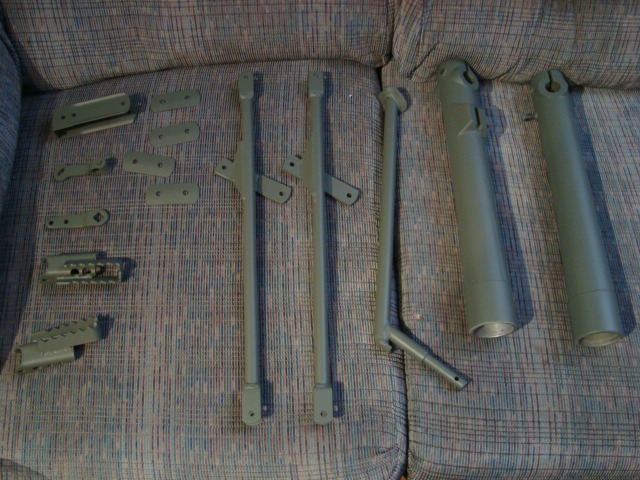 The chassis primed and ready for paint.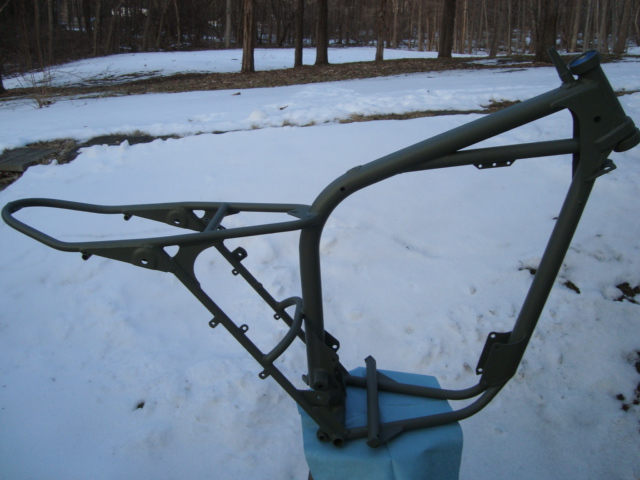 Front fender mount and stretched swing arm.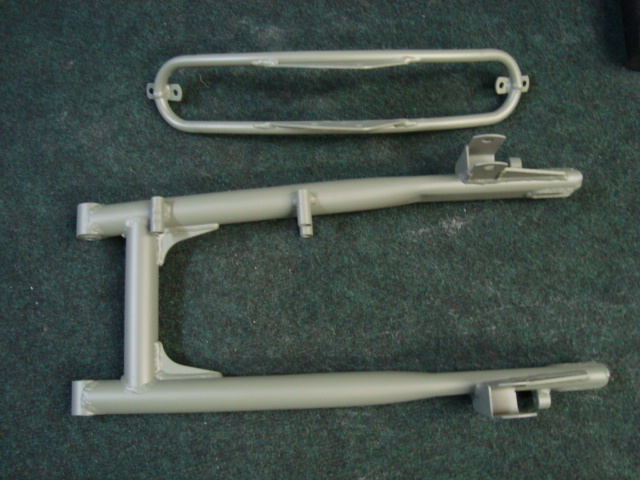 Inner fender and air cleaner cover. Air cover has welded reinforced mounting holes.
Front and Rear wheel all laced up with new Buchanan stainless spokes, nipples and new Sun rims.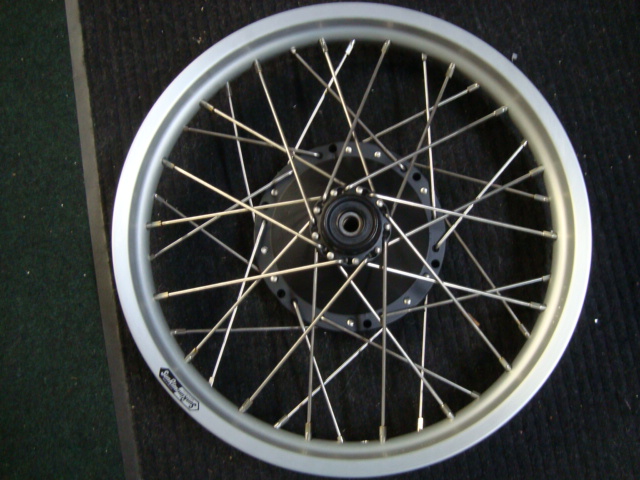 Bonded aftermarket air filter ring to air bell along with using filter cage.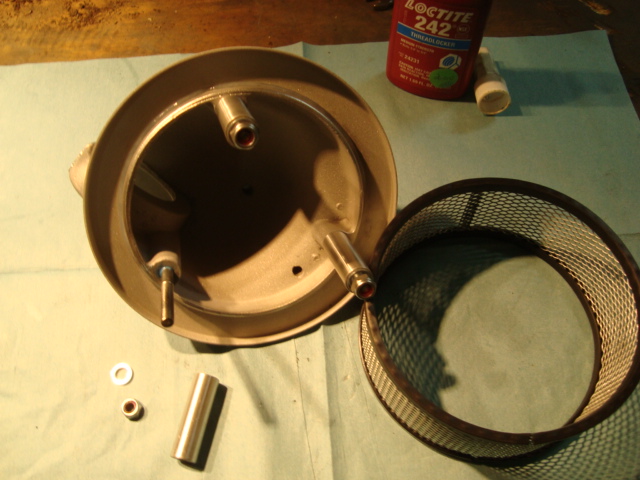 Rear brake plate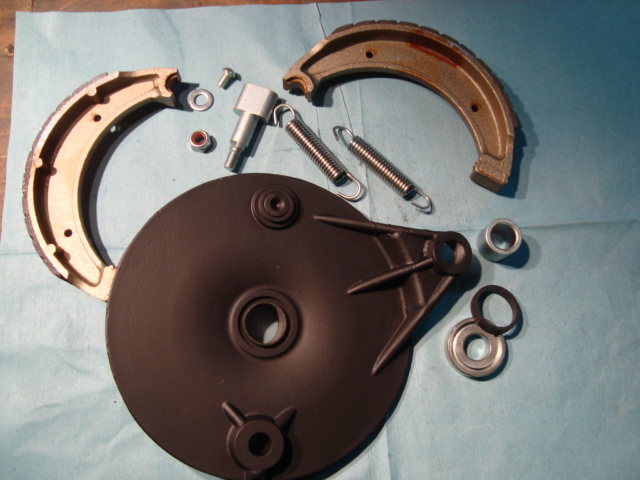 NOS Front brake plate
Kicker and Shift Lever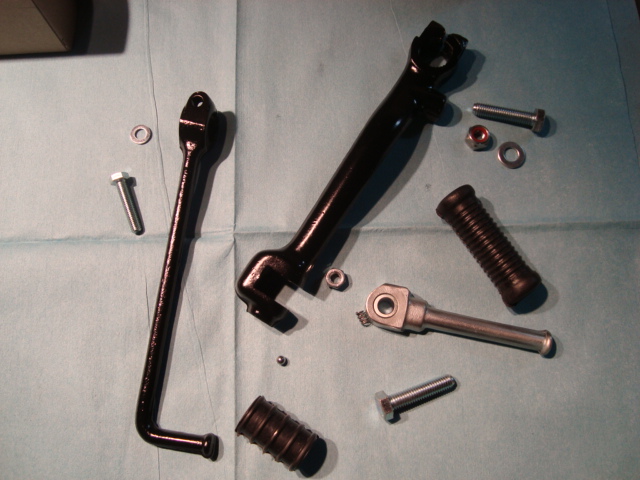 This the rear brake stay bushing. Normally it is a rubber bushing with steel insert pushed into the hole.
I took the extra step and actually molded the steel bushing in place with 80 d rubber urethane.
The screw and fixture on opposite side is holding the steel bushing in while it cures.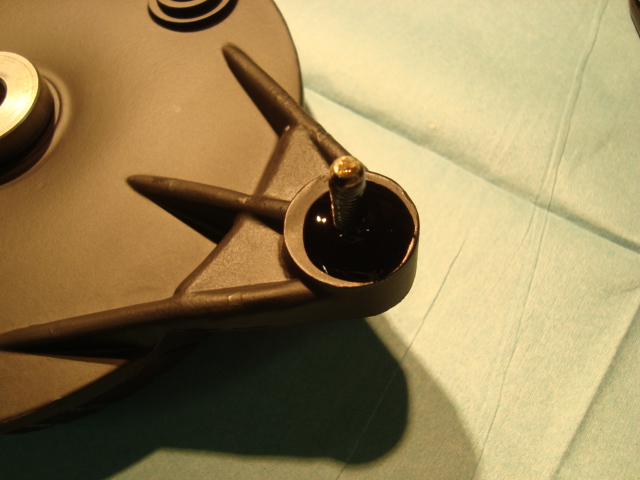 Racing seat cover and new foam. A bear to put on but really looks great.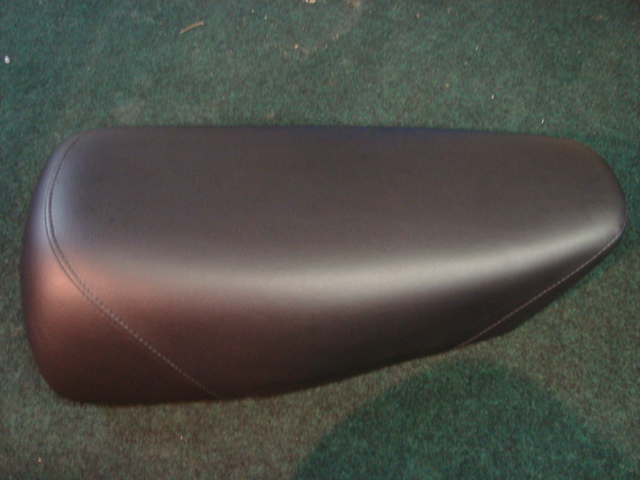 Original optional skid plate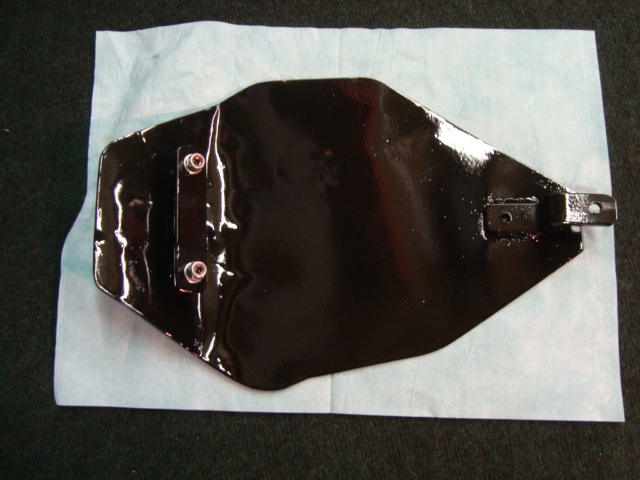 Inner fender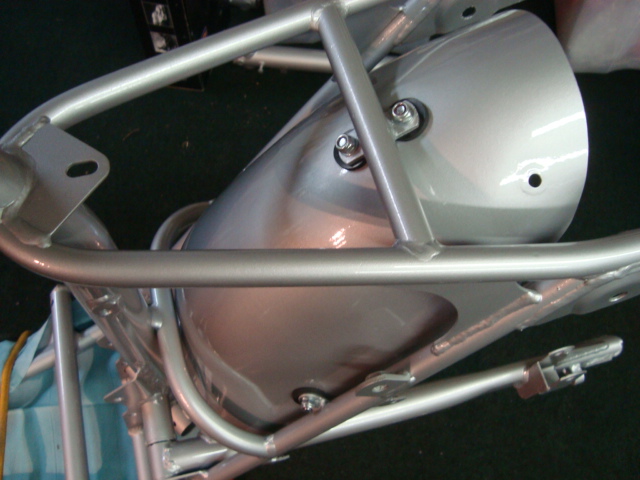 Set of rims for the bike and spares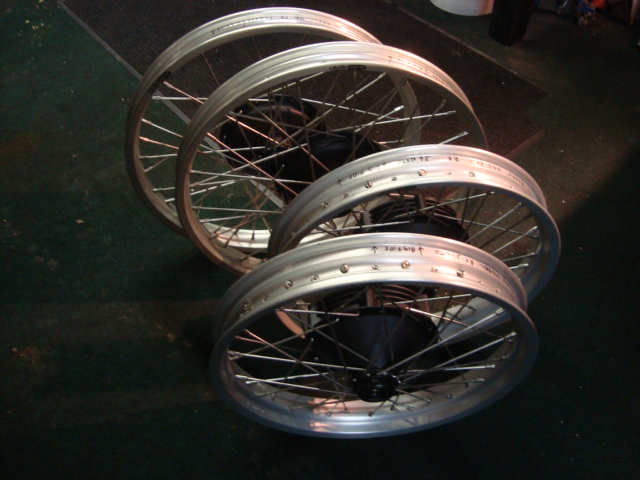 Rear fender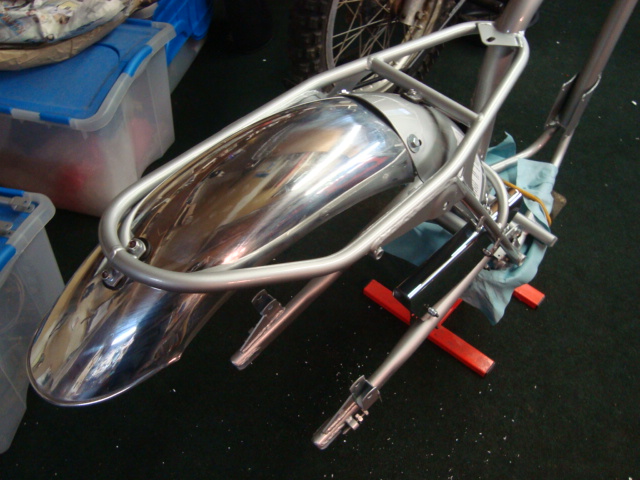 Seat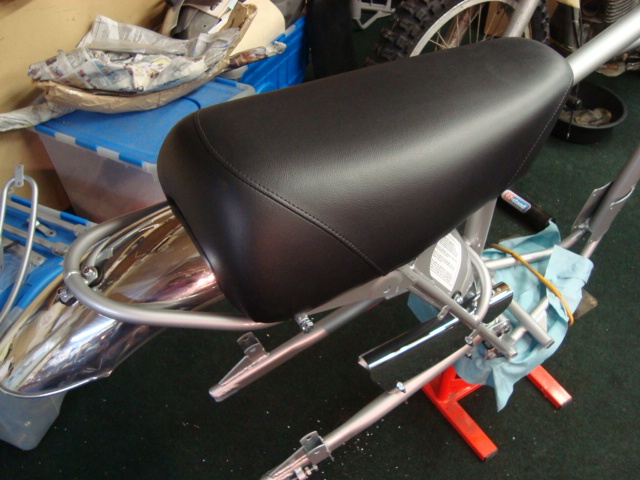 Steering stabilizer. Not an easy task but we got it installed. I had to modify the lower triple tree to spread the handle bar mounts to get the stabilizer in between. I then needed to make some brackets to extend the stabilizer out to the stabilizer pin. I built a weld fixture to set the stabilizer pin to proper 40mm distance from pin to stabilizer shaft and at the same time be on the same axis of the steering shaft.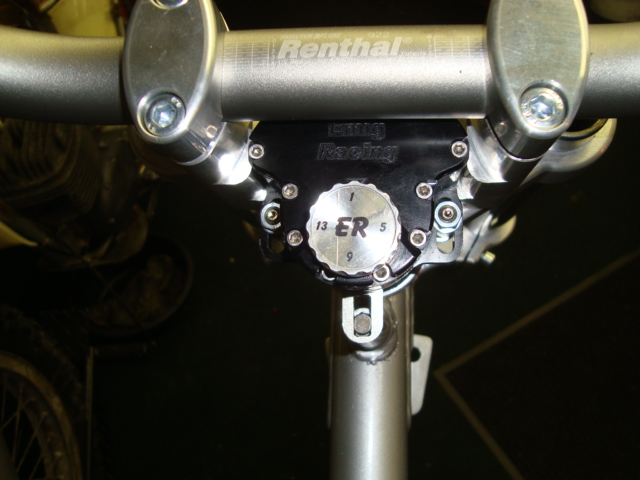 I used a later 1973 split perch Magura levers so the lever could be replaced without having to remove the brush bars.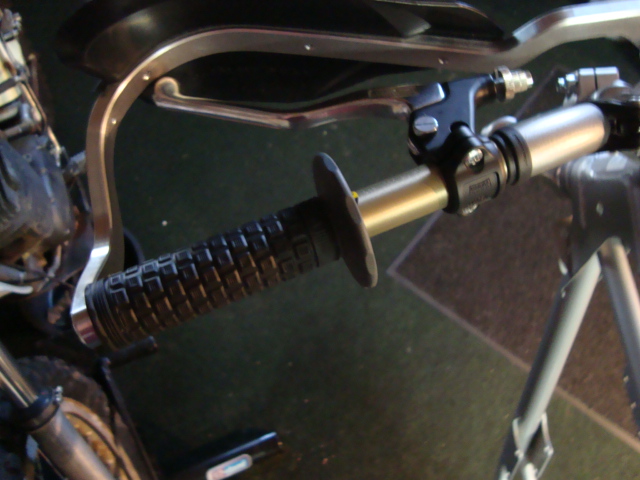 Renthal bars, brush bars, Magura levers , Gunnar side pull throttle and aluminum triple trees.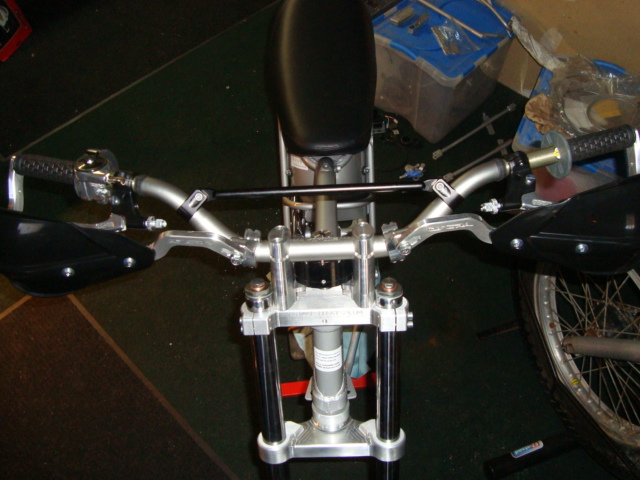 Baja Designs 8 inch Halogen. Nice unit. Very well designed.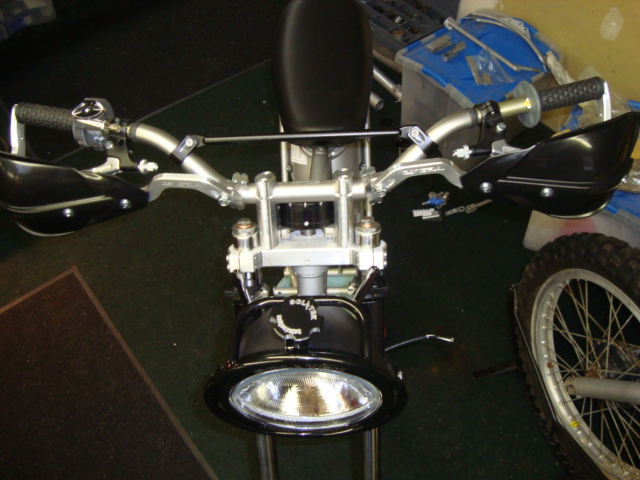 There was nothing supplied with the tripe tree to interface the original 400 Cross fender mount. I had to machine a custom billet mount for the fender mount. The mud flap is copy of the 3 ply rubber version used on Malcolm Smith "On Any Sunday" MH1221 Husky. Forks are upgrade original gray leg forks with black leg internal springs and dampeners. I had to deliver the bike to the customer with pitted uppers until I could find a set of NOS. I eventually found them when the bike was in California.
The headliight has two quick pins to pull the headlight assembly off the mounts. I added lanyards to them. Not a good thing if they get lost.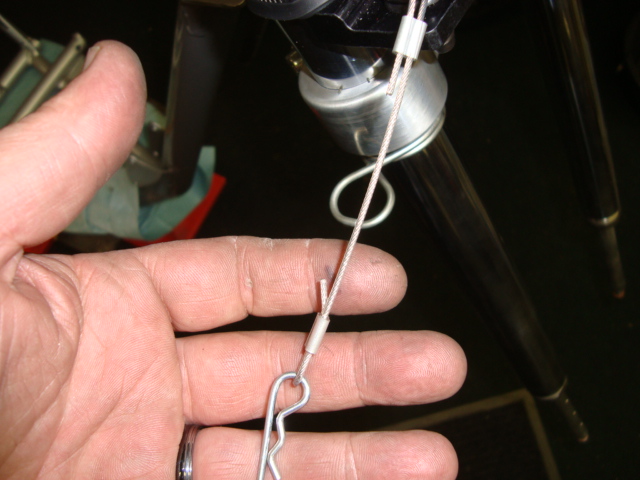 Installed engine. 400cc. New piston, cylinder, custom billet connecting rod by a person who only makes them for Ducati's, all NOS gears, main shaft and new MZB ignition. Cylinder head is old school modified for second plug.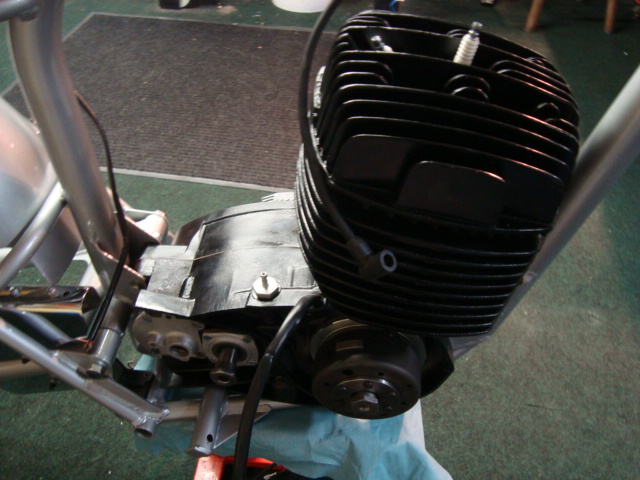 I made a custom bracket and added the LED tail light. Wired for running only at full brightness.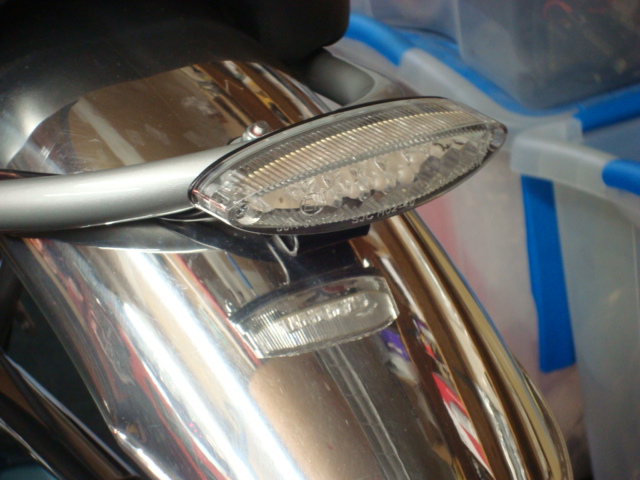 We went with aftermarket foot peg for safety.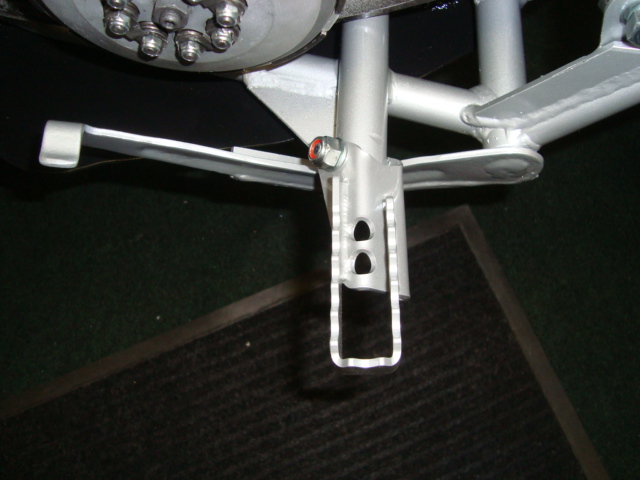 Mikuni Carb and manifold and remote choke. The remote choke is used not only for starting but for a full throttle richening in flat out running. Gives it a bit of boost. If you look you will see the modification to the Carb done by Rick Horvat where two grooves were machined into the neck of the input for two large o'rings. This eliminated the leaky rubber donut that is used between carb and air bell.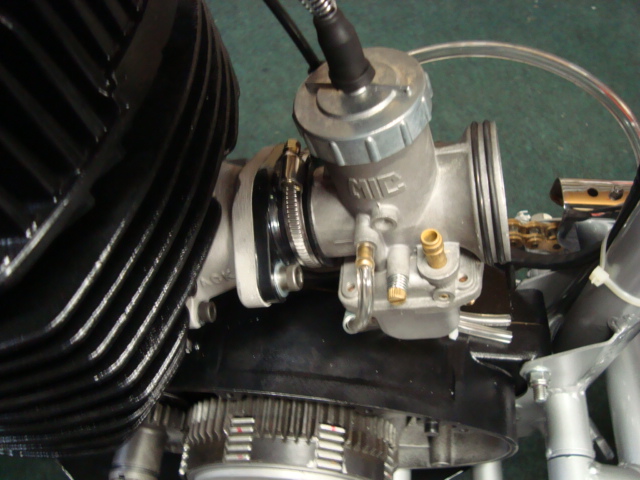 Ohlins 607 shocks set to 13 inch. Sun rim Buchanan Stainless spokes, 50 tooth aluminum sprocket, Dunlop tire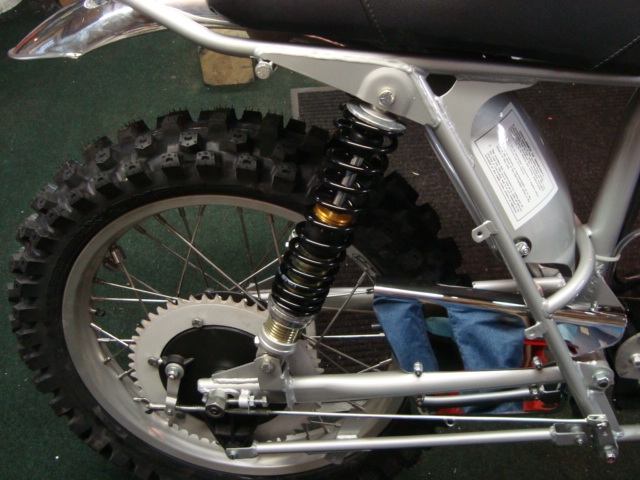 Front wheel with Sun Rim, Stainless spokes, Dunlop tire, Original forks and front brake hub.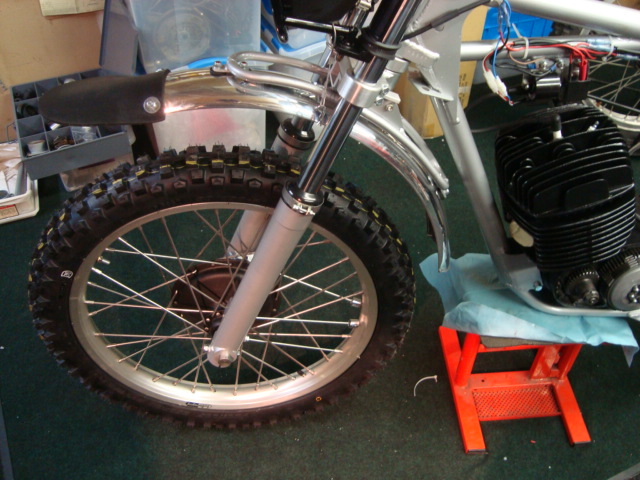 Top of the line chain. DID ERV3 X-ring with riveted master link.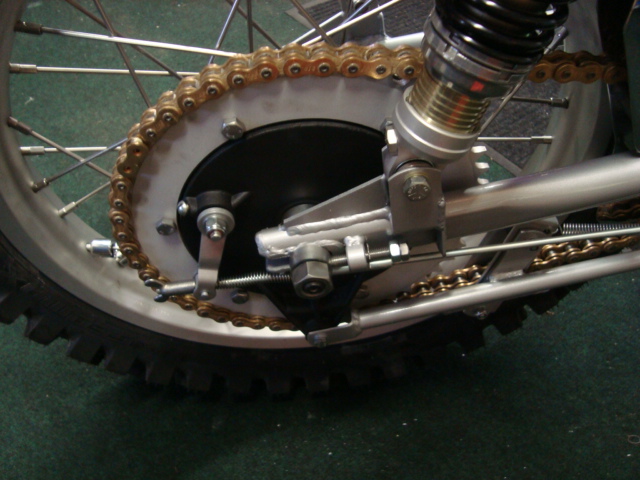 Speaks for itself.
Bike is taking form now.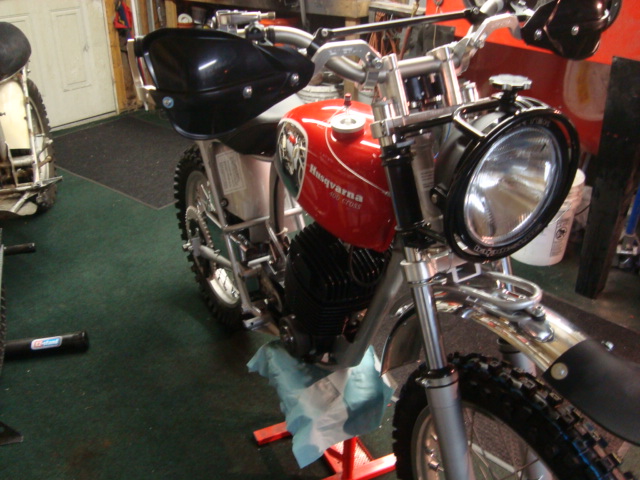 Original air cleaner with reinforced mounting holes.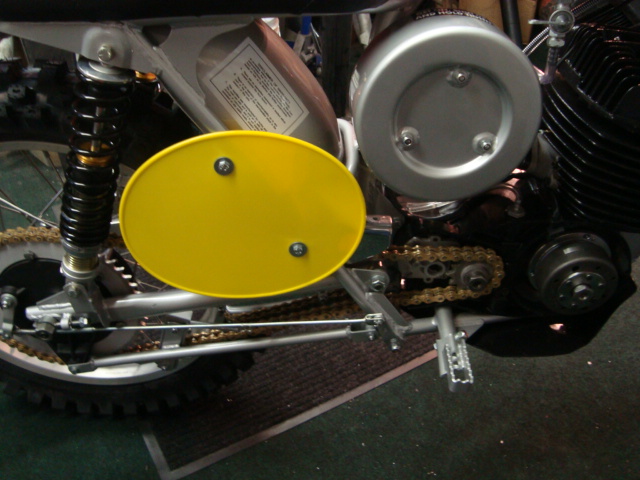 This is NOS aftermarket performance pipe with built in silencer. The heat shields were very poor so I duplicated the orignal 400 Cross heat shield and applied it to this pipe.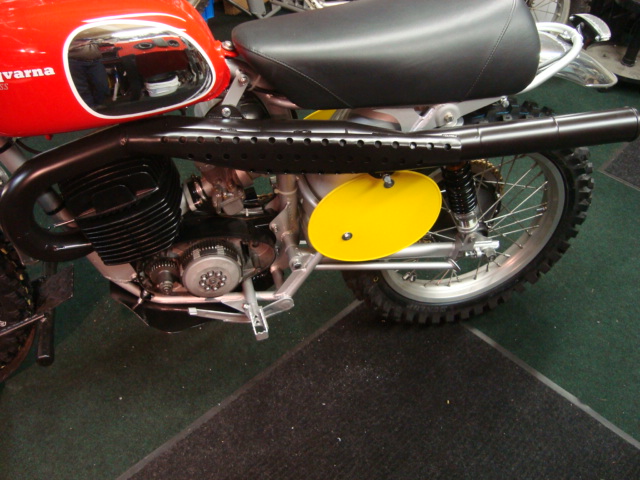 Done.