Street Legal  Yamaha HL500 #5
Replica SM SuperMoto / SuperMotard
One of a kind
Front cover of Feb issue 2013
VJMC – Vintage Japanese Motorcycle Club magazine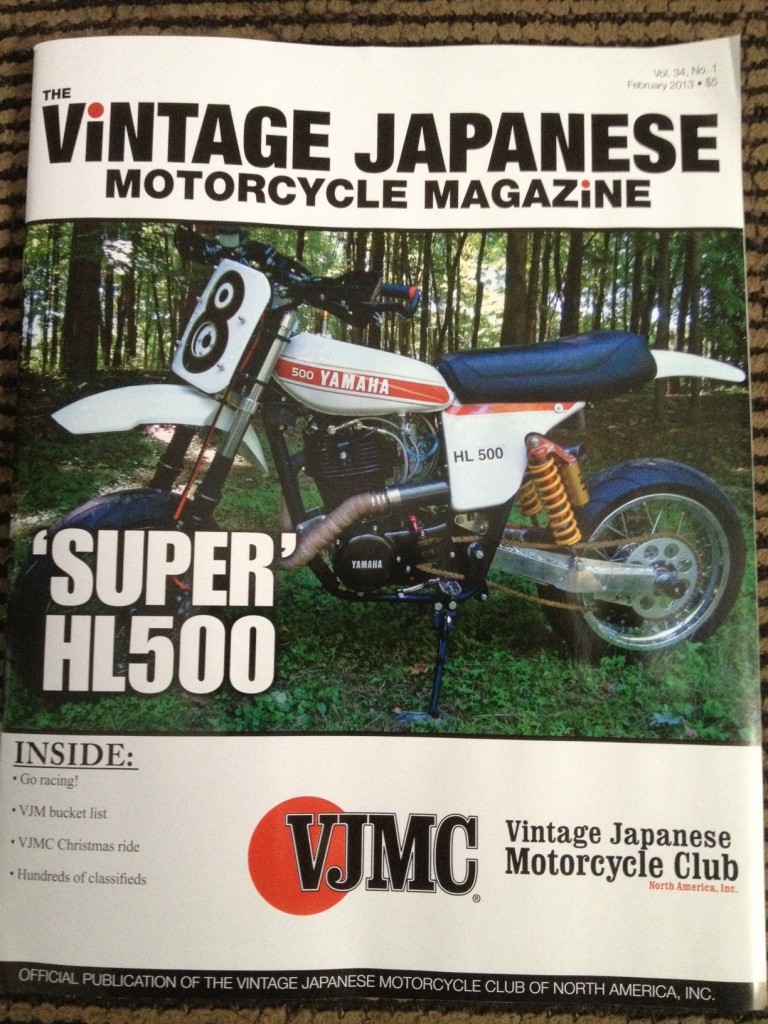 My goal was to produce a motorcycle that looked like a racer going down the road and as Stealth as i can get it.
I started this project June 2011.  As a vintage bike restorer and builder, this is sort of my tribute to the SuperMoto bikes that started it all, in the short lived 1979 series  by ABC Wide World of Sports. This bike is just my personal version, that is similar  to those bikes. This bike is intended to be street-able with full lighting.
The frame is a Yamaha HL500 replica with frame and swing arm modifications in order to install a wider rear wheel.
Aluminum triple tree with adjustable offset, custom made by Frame Crafters.
Titanium footpegs
Front forks – Shortened 1988 YZ250 43mm with Sonic Springs.
Front and rear hubs, rear axles, sprocket, brake disc mount and rear caliper mount by Cheney Engineering, Modifications by Rob
Nissin brake calipers
EBC brake disc
Magura front brake radial master cylinder with remote resevoir.
Magura hydraulic clutch system with decompression lever. Customized for TT500 by Rob
Buell rear brake master cylinder
Rims –  DNA Specialty  3.5 x 17 and 5.0 x 17
Tires - Michelin Pilot Power 2CT
Custom Ohlins piggy back shocks
TT500 engine
Megacycle cam
Mikuni Round Slide Carb
K&N Air Filter
Dual rocker steel braided oil feed and steel braided oil lines through out.
Frame Crafters  Steel exhaust, modified for Custom Silencer by Rob
MZB Electonic ignition
Custom headlight assembly with 10W LED by Rob
LED turn signals, tail light and brake light.
Vapor Tech Speedometer
Hand Guards with intregal turn signals.
Front modulate running lights.
Fuel Tank  - 1976 YZ125
Billet Aluminum fuel cap with check valve vent.
Custom 1976 YZ125 seat  upholstered by Pirate Upholstery, Kingston, NY Pirate does custom seat for Orange County Choppers.  Pirate
UFO Fenders -
Renthal Handle Bars
Sliders by Rob
Riderscan innovative blind spot mirror. Riderscan
Rear view camera with LCD display. ( No more rear view mirrors. )
Custom Kick start indicator.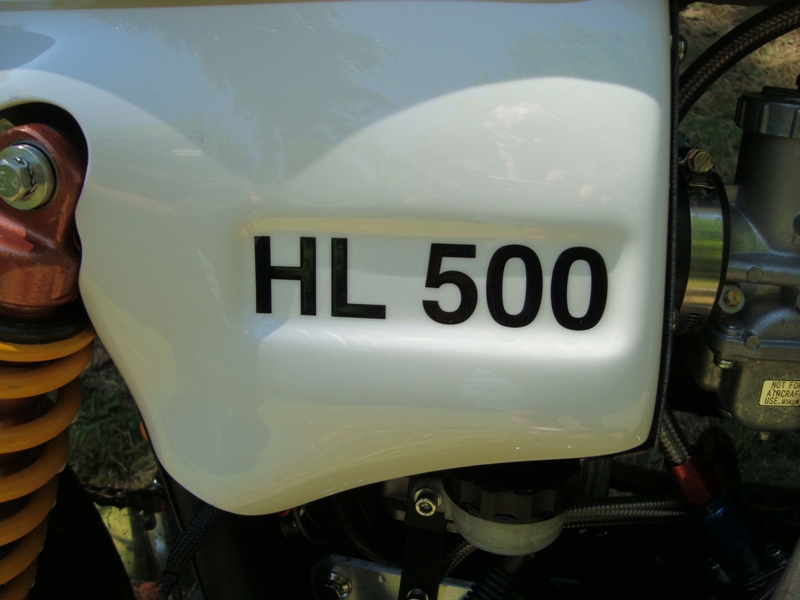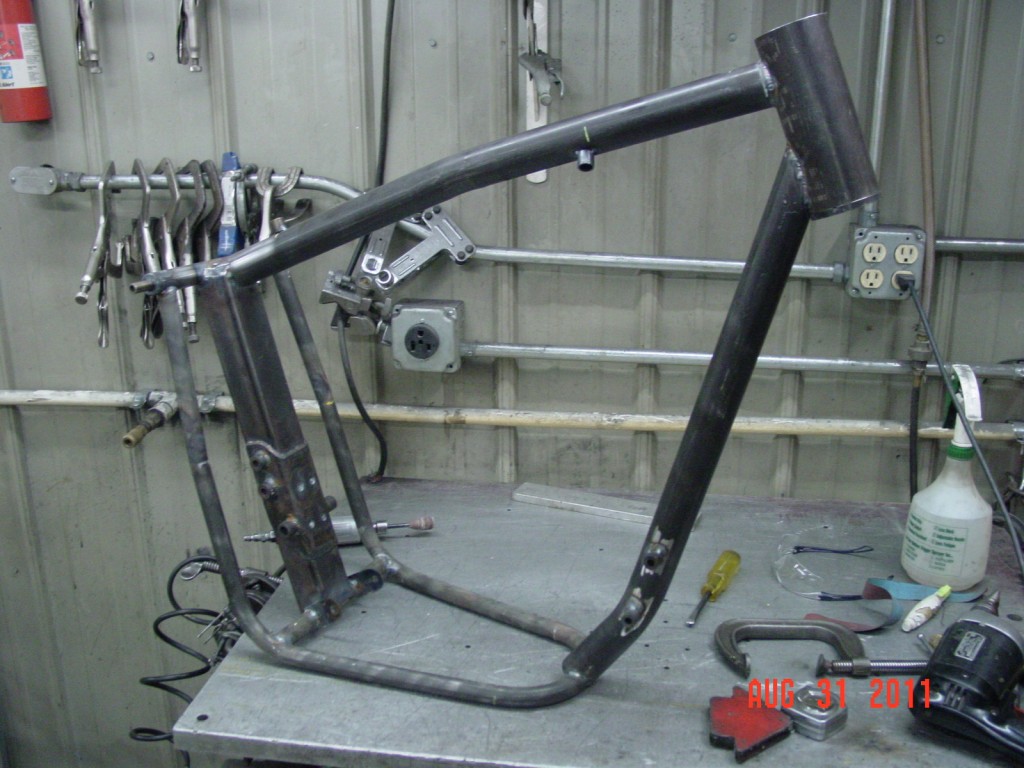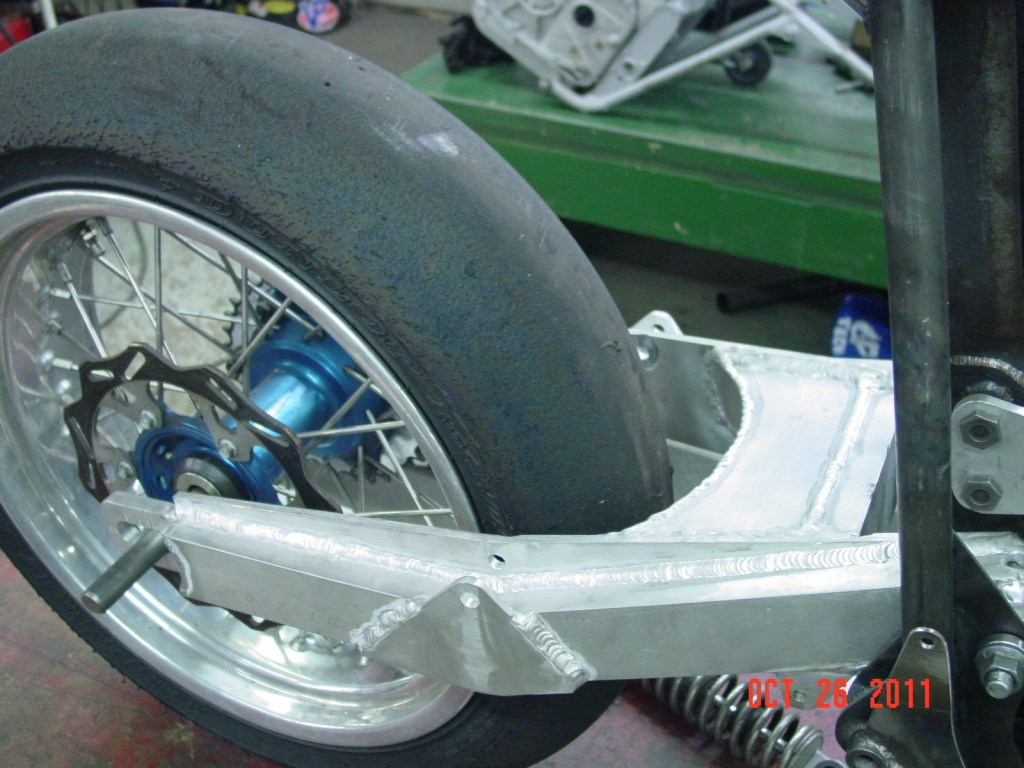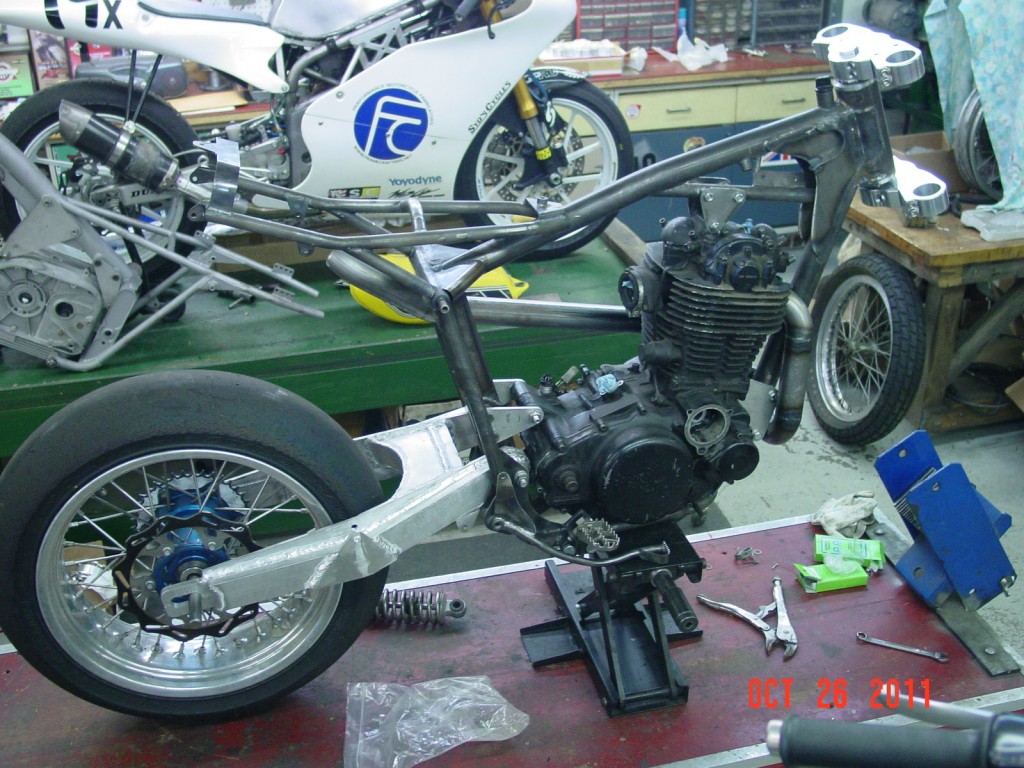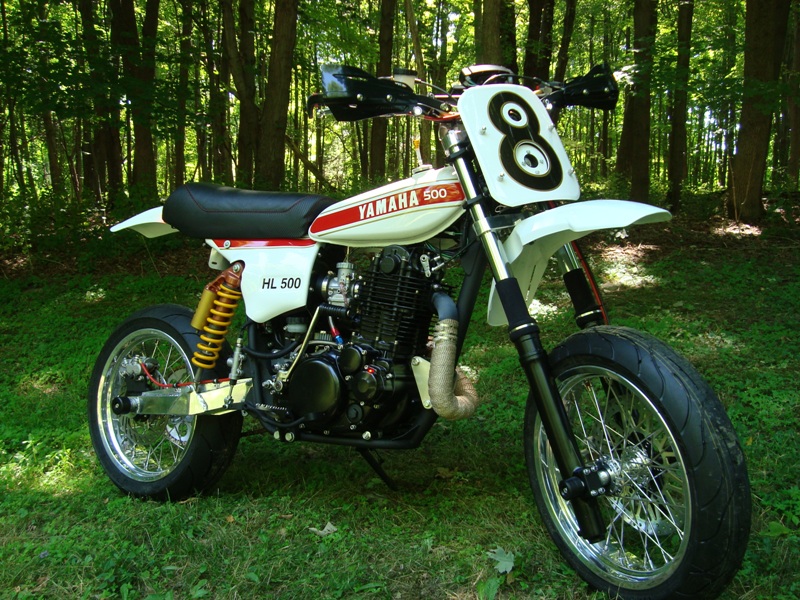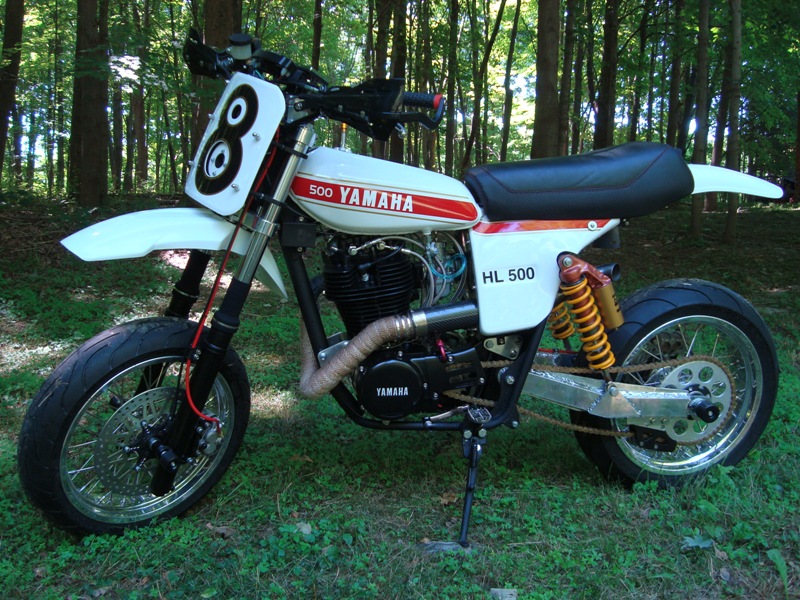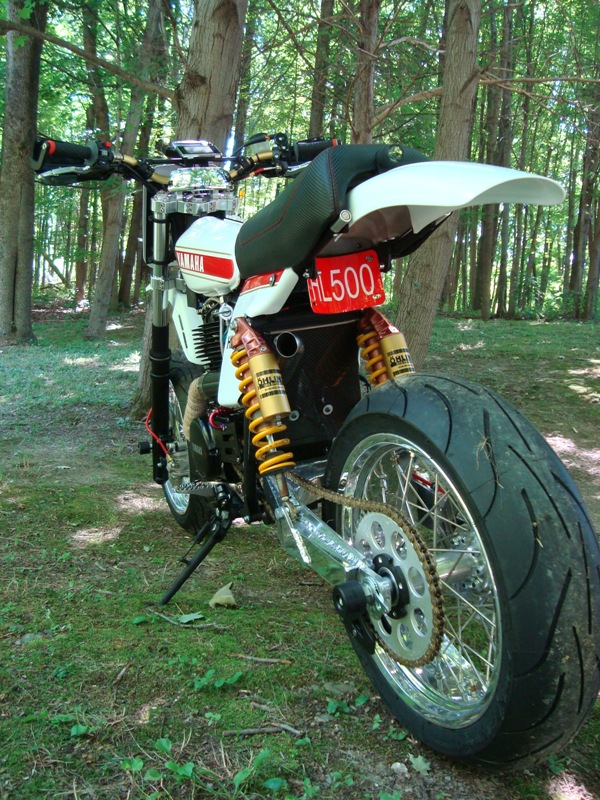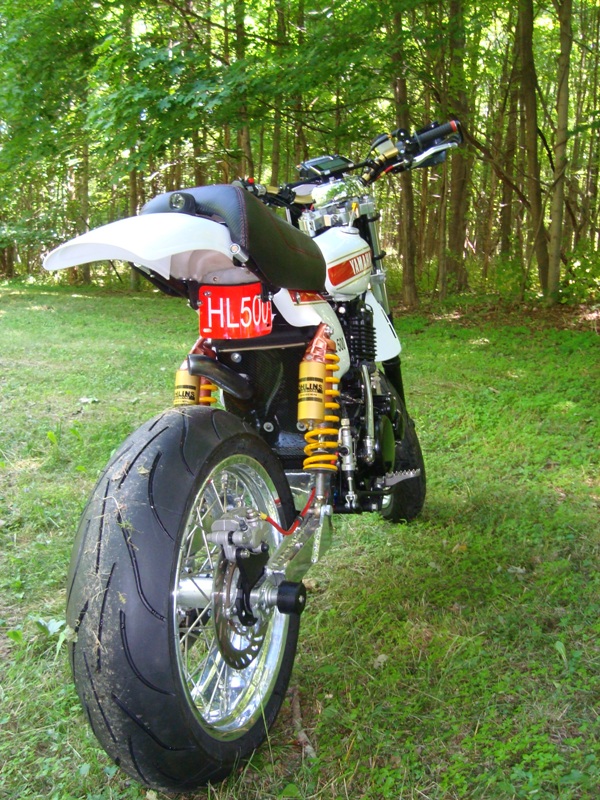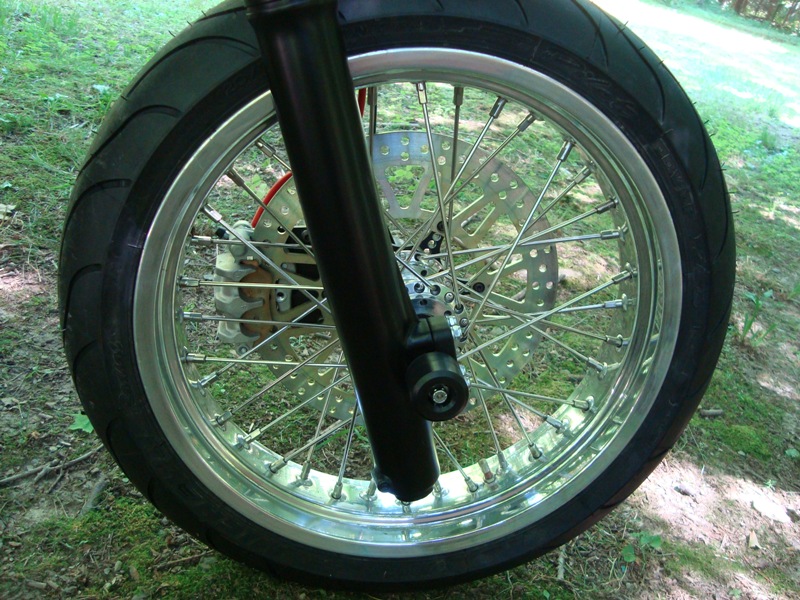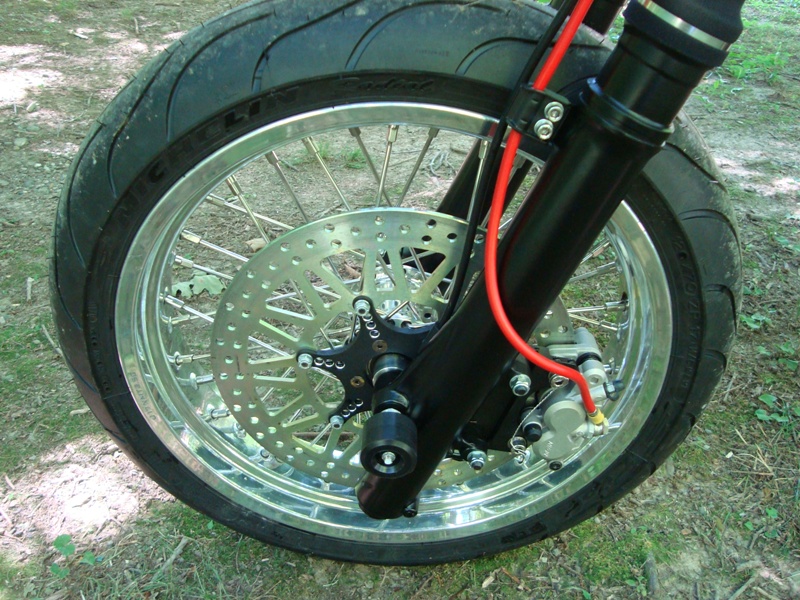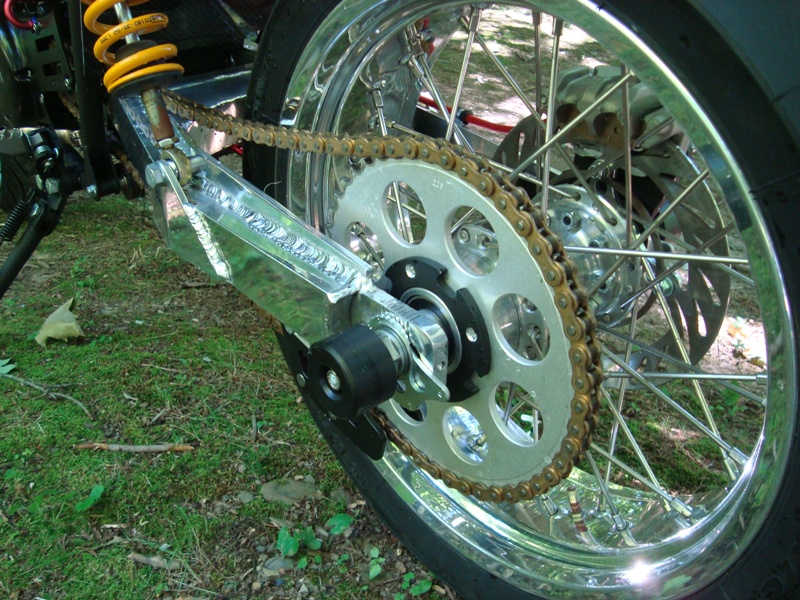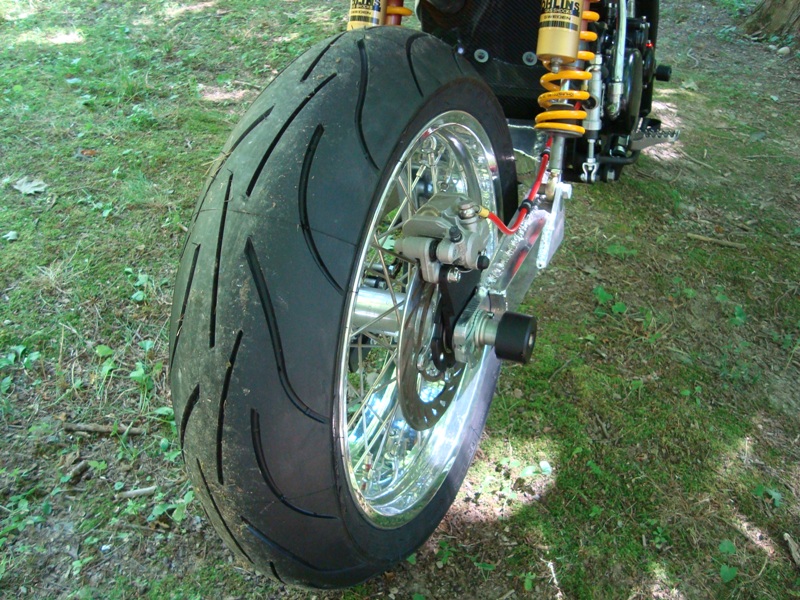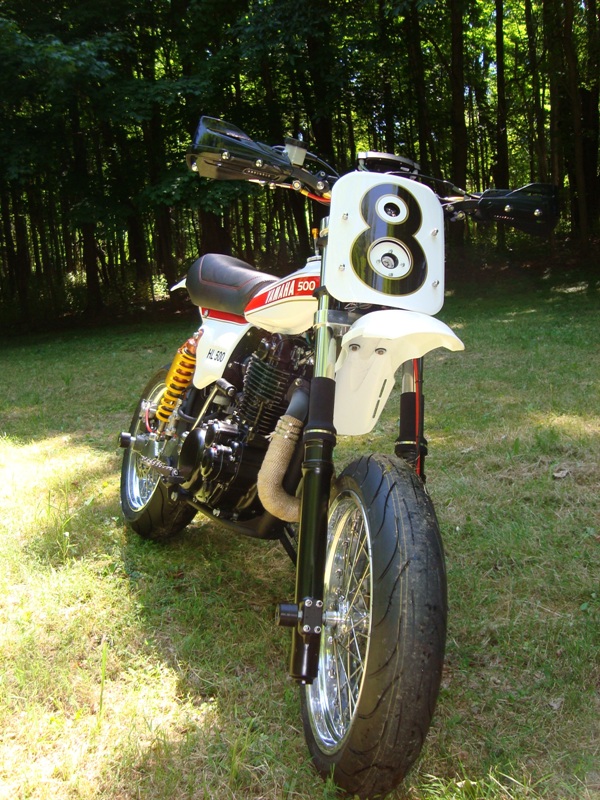 Below you will see the rear red running lights that also act as brake lights.
Right above the red license plate is a row of LED's shinny down as your license light.
You will see in the next photo the LED bar strip for addition rear brake and turn signal.
The round device on the back of the seat is rear facing camera. WHAT A CAMERA!!!! read on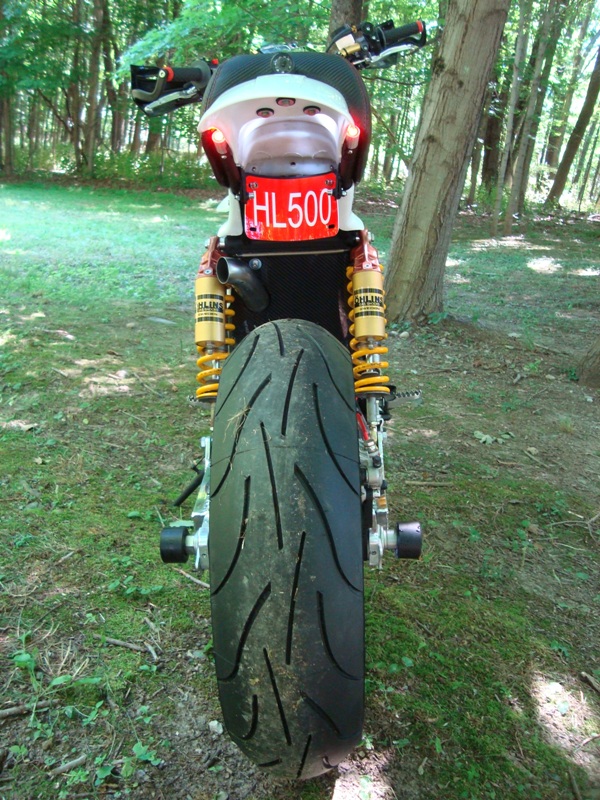 Rear brake strip with yellow turn signals to either side.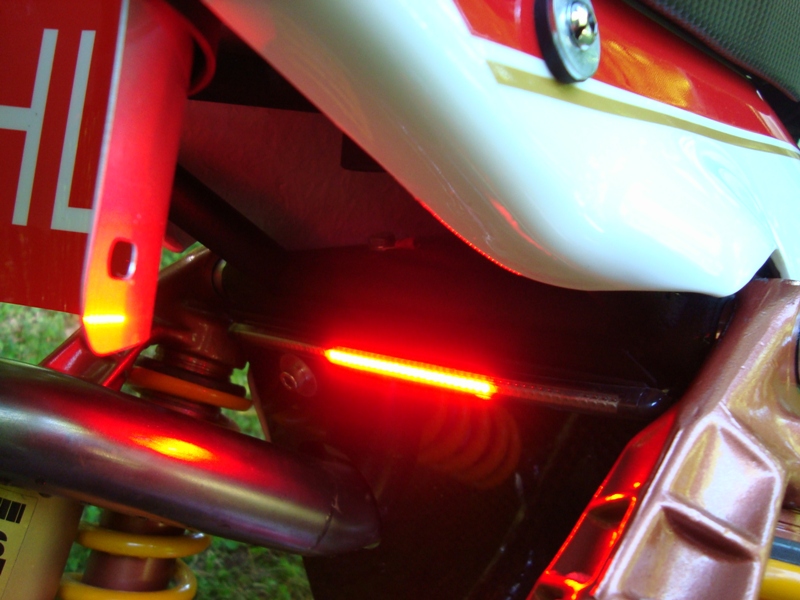 Below you see the front turn signals in the hand guard. Just to the right of the led, you see a white light. There are
two of these used as running lights and to add to the safety margin the lights are modulated to get someone attention.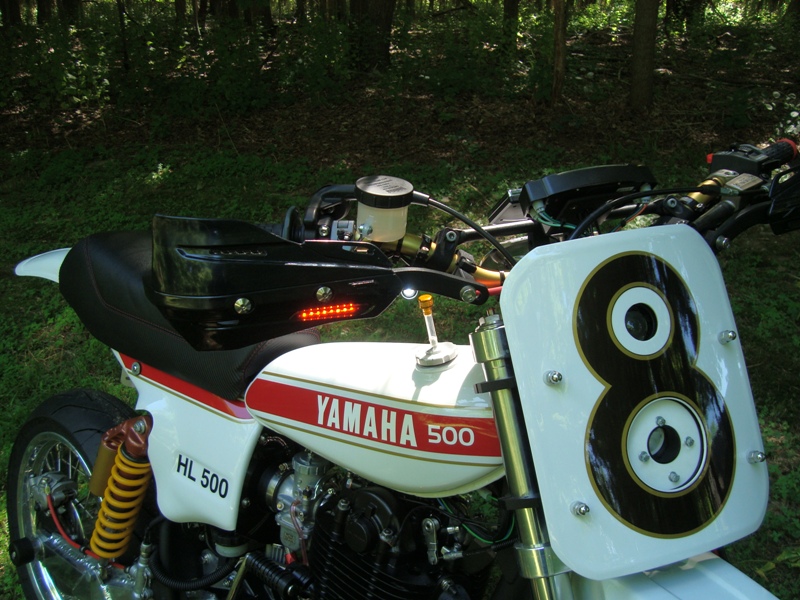 Here is another shot of the LED light bar and carbon fiber inner fender.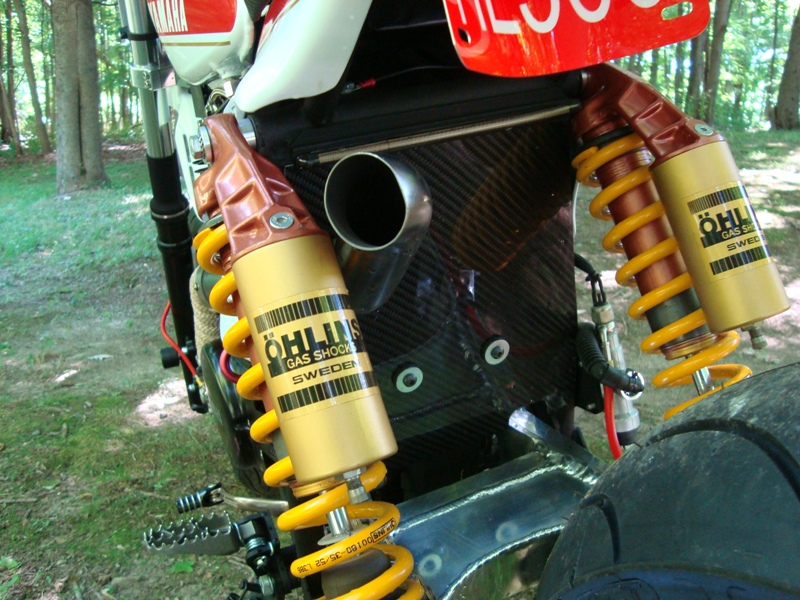 AH, What this?  A LCD display?  You got it. Its for the rear camera. See it active in next photo.
Next………….
Below the LCD is the coolest 180 degree blind spot mirror. If you look closely in the mirror you see me taking the
photo. My arm is stretched out holding a blue rag. Next to rag you see the handlebars. This super mirror allows you
to see everything from the handlebars back. No more blind spots.
Combined with rear facing camera, you could not get any more coverage from getting run over by something from rear.
The main reason I did these two items was to eliminate the rear view mirrors.
Not many have implemented this for motorcycle.
Motorcycle Rear facing back up camera and LCD display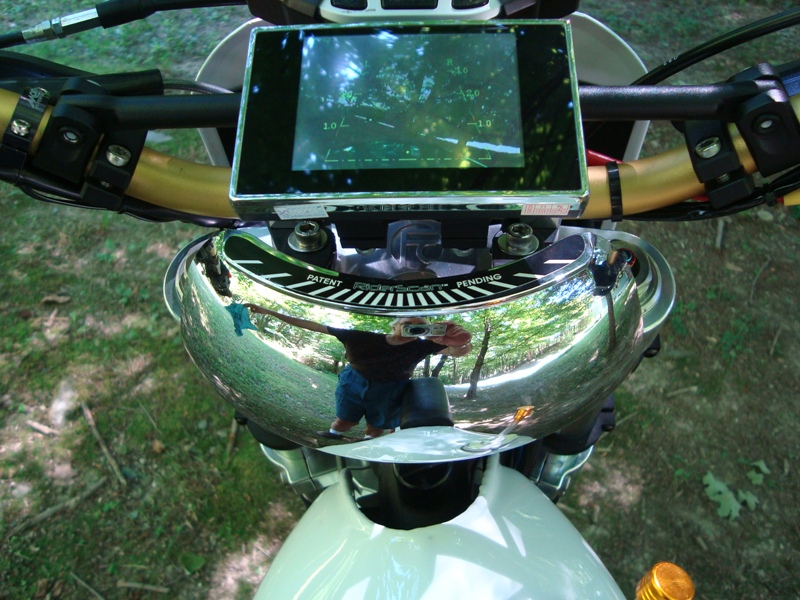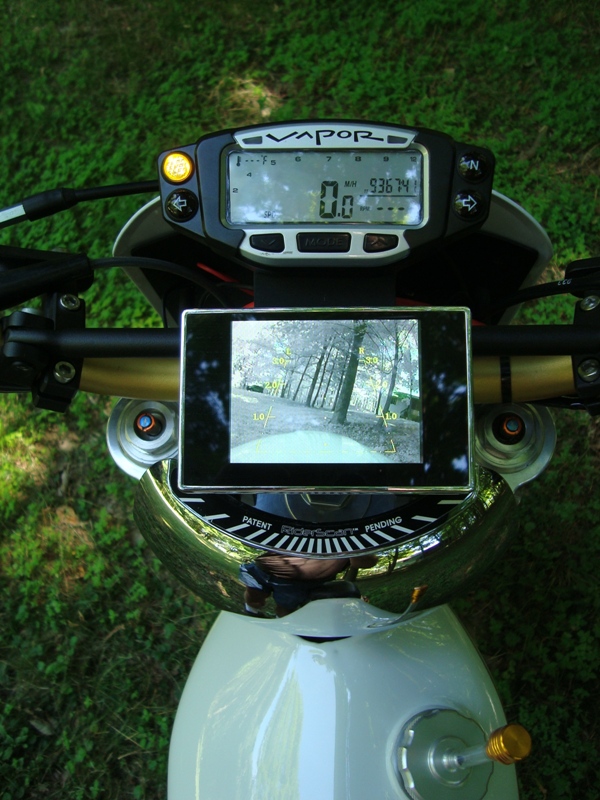 You will like the following photo.
Since the ignition is electronic, we now longer need the points.
Since all TT riders know that in order to kick start a TT500 or XT500 you need to bring the piston
to Top Dead Center. You view through the cam cover until metallic indicator is in the window, and
then kick the engine over. Since the points open at approximate TDC I utilized the points to turn on
this small LED. You simply bring the engine to TDC and when the red light goes out., you are ready
to kick away. Nice feature for night time. LED Kick Indicator.
If you look at the end of kick lever, you will see I added a kicker restraint.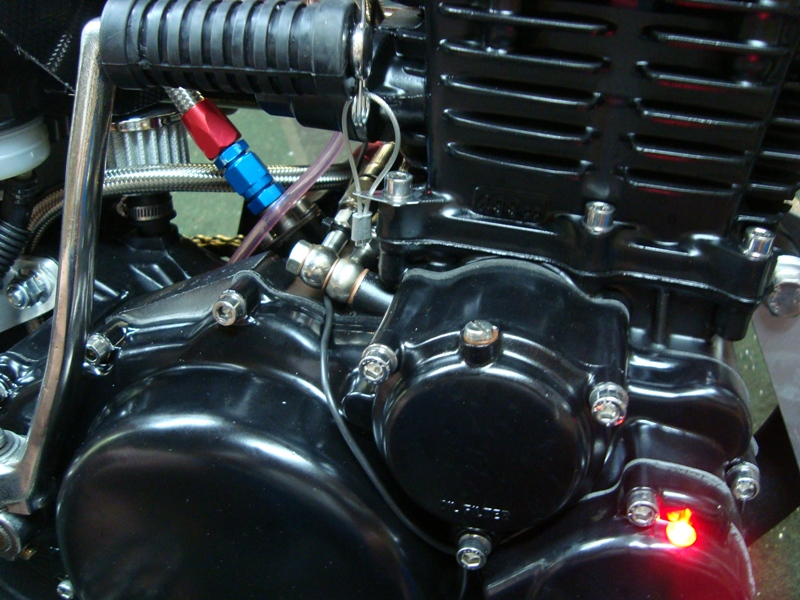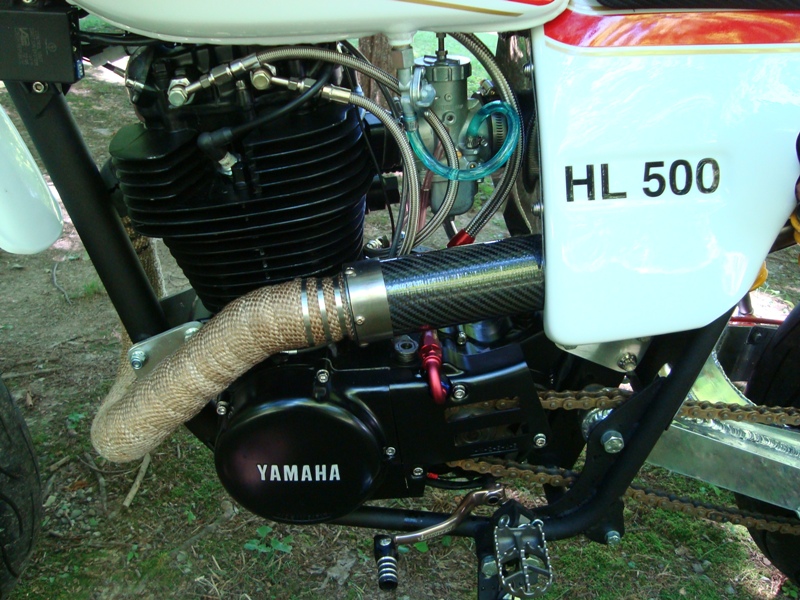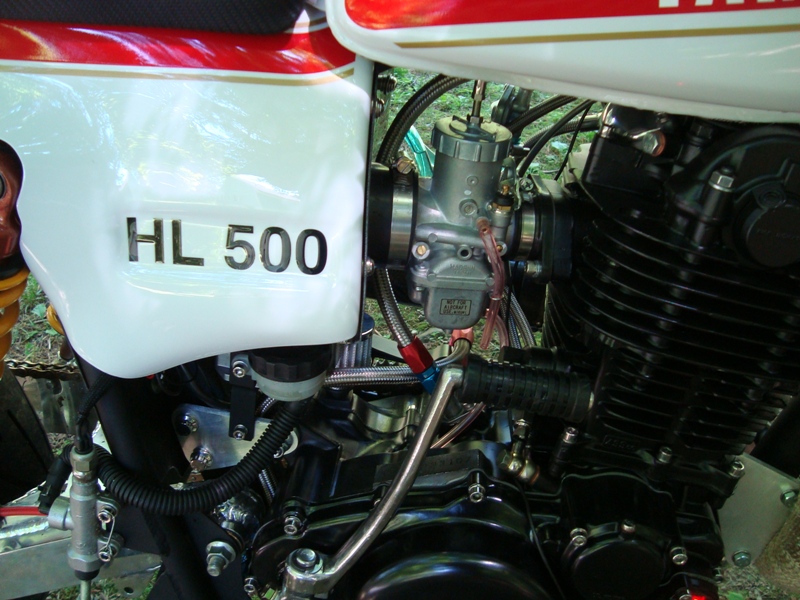 The End