1970 Husqvarna 400 Cross custom Built by
Steve McQueen's , Solar Automotive
"The Solar Husky"
One of a kind
(SOLD, last chance, only one left for sale)
The custom modified frame by Carroll Ditson
Built specifically for high speed desert racing.
Registered with California DMV August 15, 1971
Please enjoy this story and understand that this motorcycle, for its time, was State of the Art. It is one of the most extensively modified Husky 400 Cross I have ever seen, and was built by Steve McQueen. There is a special ending to this story that will amaze you. If your a McQueen fan, you will be an even bigger fan when you hear the ending.
The story was written in January 2010 when I purchase the bike from second owner.
I was told the bike was built by Solar Automotive, Steve McQueen's company
The story gets a little technical but bare with it. I purchased this very cool old school (Frankenstein) Husky from a gentleman named John. He did not have any photos of the bike, so I went by his description to buy the bike. He told
me about some really nice design changes done to the bike, so I bought the bike. He had retired the bike to
under his porch in 1978, where it stayed until January 2010 when I bought it.. Since it was a LA Calif local
bike it weathered well so to speak. The owner told me the bike was upgraded by Solar Automotive and that it was heavily modified. The story goes, that John took is own 1971 Husqvarna 250 to McQueen's shop to have them upgrade the bike to 400 engine, because the bike was too slow in the desert. (You will see what the real story is at the end.)
I eventually received some photos from John. The bike was in pretty sad shape, but it was complete.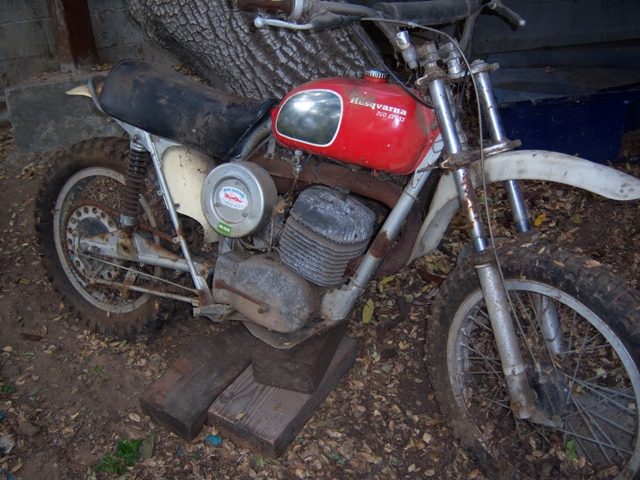 Its now March, and I finally got the bike to New York. Close inspection shows front brake hub as being smaller 250, and the fuel tank says 250 Cross, but engine and frame are pure 400.
Front forks have been lightened, steering triple tree cut for lightening, handle bar mounts raised one inch.
The neat part, was the handle bars were Titanium. The levers and throttle were original Magura, but the grips were made by a LA California company called CAMCO? (see update above) Rear swing arm is stretched one inch, reinforced top swing arm gussets, and the lower shock mount moved forward. To top it off a nice set of Koni shock absorbers. The engine is an original 400 with 400 pipe.
Carburetor is a Bing, and air cleaner bracket is a one piece after market. Close inspection of swing arm shows it has a 10mm swing arm axle. This puts the bike into 1970
Here is where it gets interesting. The bike was built by Solar. You might ask, so what are the frame and engine numbers? Well, they are not original and they were stamped in by Solar. Why, because this 1970 frame is stamped 670030, which anyone with Husky frame number knowledge knows this is fabricated number of their own. To make matters more puzzling the engine is stamped with the same number which is also incorrect since 400 engines start with 400,401, 402 or 403. I showed this to Don Ince and my friend Christer in Sweden and we agree it appears to be a stamp over on the engine. I am planning to pull the engine to see if we can do some Forensics to determine the original
engine number.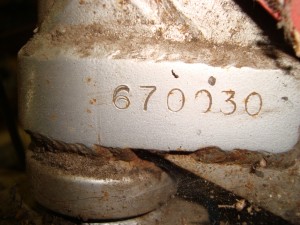 Stamped over engine number. Usually the engine number are under cylinder head on the left side. It is blank on this engine.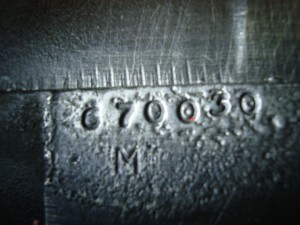 Now the clincher!
Good old buddy Don Ince of http://vintageviking.com found a Med International document dated Jan 1971 signed by
Edison Dye and invoiced to none other Solar Automotive Steve / Don. Don is Don Mitchell, Steve's race manager.The invoice is for a replacement frame and it states that Steve's original frame was broken in two places.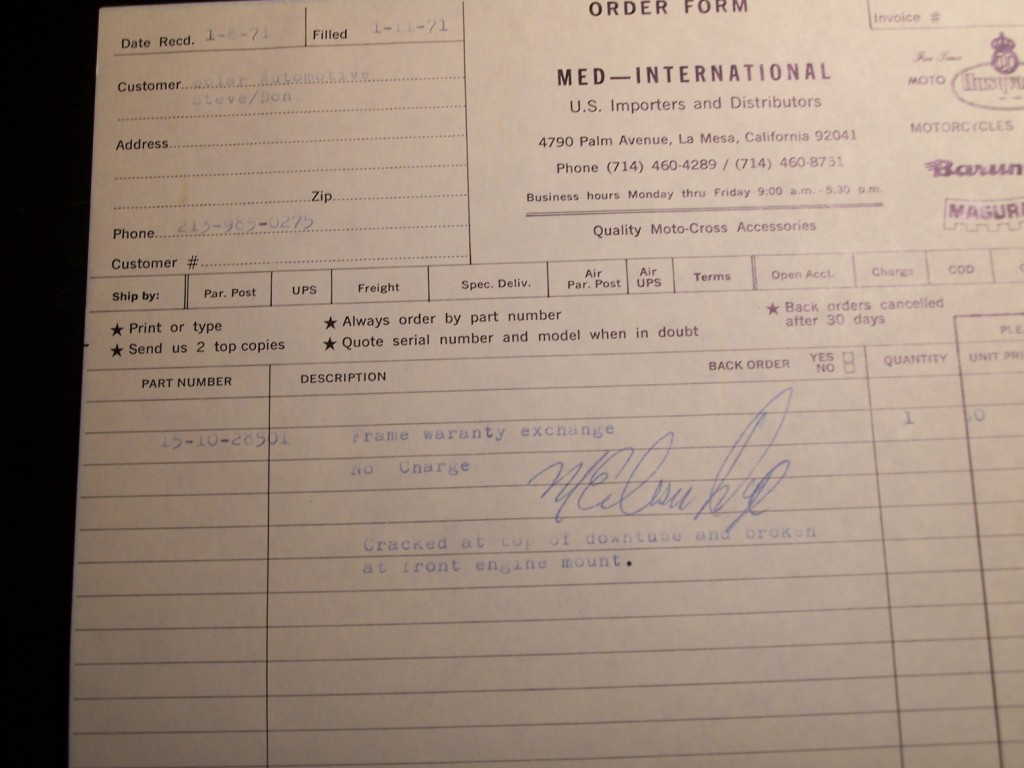 Now back to the frame number. Replacement frames do not have frame numbers stamped on them which explains how a frame we know came from Solar was able to be stamped with a new number on a original blank surface. Why did Solar stamp this number and what does the number represent?

Also on the document is a note (not shown) to Pierre, Edisons shop forman, to give Solar the aircraft bolts they got from Rohr aircraft. Well ……
there are a number of aircraft bolts on this bike? I looked at a few of the bolts. On the head of a few of the bolts is a number. Seeing them without a magnifying glass the first letters look like ROHR for the aircraft company. The original ROHR Aircraft is gone but there is a website of Rohr employees, Alumni. I emailed them and they responded saying Rohr did not make their own bolts. I viewed the bolt again with a magnifying glass and saw RD111. Close to ROHR Now I have a real number and tracked it down to a company making aircraft bolts. I emailed them the bolt number and they kindly replied with basic information on the bolt but they said they could not give me anymore information because the information is proprietary to Pratt and Whitney, Rocketdyne. What????? I emailed the company back thanking them and told them about the motorcycle. The person responds with, I guess McQueen only puts the best on his motorcycles because those bolts are made only for rocket engines. LOL, LOL,
Closer look at the bolts on the whole bike, shows a few original bolts, a few aircraft bolts, four titanium bolts to bolt the engine on and of coarse you just got to have rocket engine bolts holding your shocks on. LOL
The motorcycle was filthy from 32 years of being under the porch so I decided to take the bike down the local car wash to use the high pressure sprayers. After about 30 quarters I noticed all of a sudden the paint is coming off the frame. Since I have restored a bunch of these bikes this should not be happening. So I am looking at the frame under the paint and it is shiny. I know chromemoly can be polished to be shiny but this does not look right. I left the car wash puzzled. I stopped by a friends body shop and showed him. He knew right off. That's what I did to my race car, its "Nickel Plated" You got to be kidding me!
I took the bike home and saw that the frame, foot brake lever, brake rod, brake stay, chain guide, skid plate and swing arm are all nickel plated. I spoke to the last owner Jim and he said he knows nothing about the frame being nickel plated.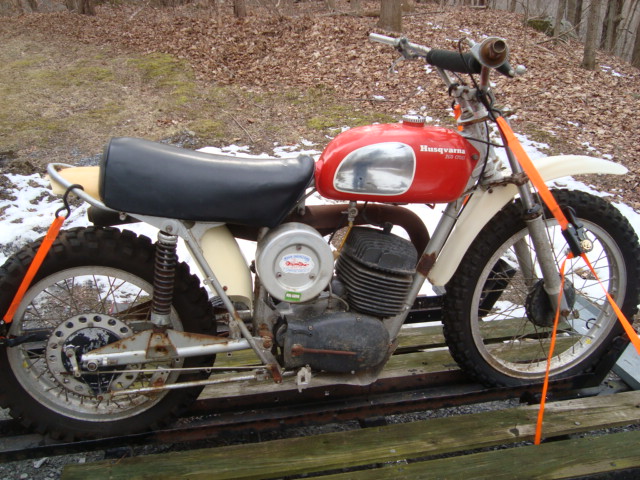 A few nights pass until last night when I started cleaning the bike up, and noticed the center exhaust bracket is almost twice as long as normal. I took the pipe and seat off and would you believe the frame has been cut at the seat area, rear hoop connections were re-done, a gusset plate welded in, and because the rear hoop section is tapered in the front, the seat pan was also tapered in to match the hoop. I then see up front there is a one inch piece welded into the front down tube. So prior to nickel plating the upper frame section was raised an inch. The reason for this, I am sure, is to lower the CG of the bike and increase the wheel base. Wheel base is almost 3 inchs longer than stock now. WOW!
The rest of the story? Who knows where it will take me.
April 2010
I started dismantling the bike. Like my other McQueen bike, the plan is NOT to restore this bike but to give it a super cleaning.
It has a nice set of 12 inch Koni's which I took off so I can have the internals rebuilt. Not in bad shape but the seals are shot asyou might expect. I removed the engine for a 'Internal" rebuild. I noticed few things unusual with the engine. The first is a large,very short, aircraft bolt was built into the top left side cover as a second oil fill hole. The original right side filler cap and vent hose was modified and fittedwith a 3/16 inch steel braided hose and fitting ? Engine side cover bolts are high strength Allen cap and they are nickel plated.
The another unsual item was the engine color. It looks like a very faded black, almost Titanium looking, but the problem with that is it isuniform over the entire engine. I took a photo of it with a normal cover so you can see the difference. What is that all about?
Update May 13, 2010. Thanks to Rick Horvat. Engine Coating was identified as Kal-Gard.
I tracked the company down who are now called KGcoatings. I spoke with Chris Fazio General Manager who was very helpful. He spoke tothe original founder Joe Ardigo of KalGard but no records exist. Chris believes the coating is their 2300 Original Gun Kote. I got to say foralmost 40 years olds this coating is in remarkable shape. You'll see it in the final steps of the clean up. Chris says the coating is impervious to anychemical so I expect a nice clean up. After seeing this I'm sold on this product. Great stuff. See it at http://www.kgcoatings.com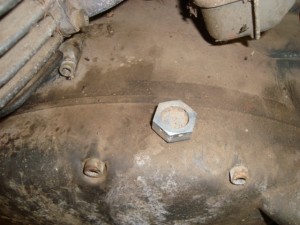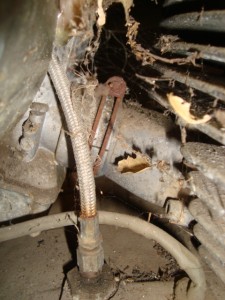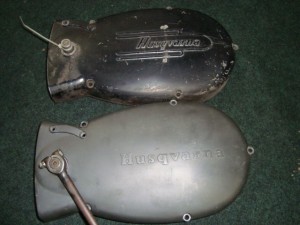 I took the rear wheel off. Changes: Axle thread changed to fit the multi spline 7/16 aircraft nut. Custom chain tensioner spacers were madeof aluminum and extanded to cover the aircraft nuts. A 7/16 socket fits perfectly inside.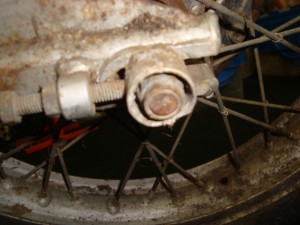 Rear brakes are stock but the brake plate bushing is now aluminum. Brake stay and chain guide are Nickel plated, aircraft bolts and brake stay stretched one inch. You can see the stretch next to the chain guide.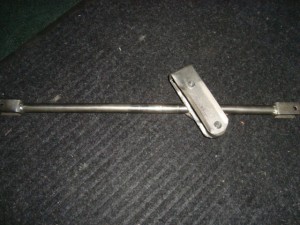 Rear swing arm is nickel plated and stretched at rear one inch. Shock mounts moved forward 4 inches. Minus the one inch stretch the shock is 3inches forward from stock. That would open the top clearance above the wheel and really change the geometry of the suspension. Top surface of swing arm heavily gusseted. I placed a normal swing arm along side.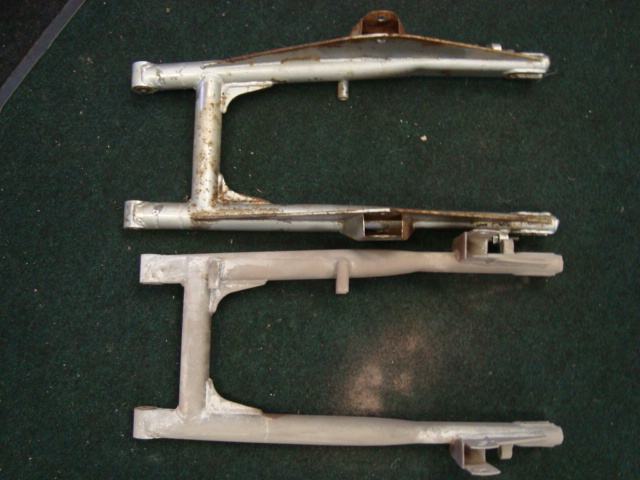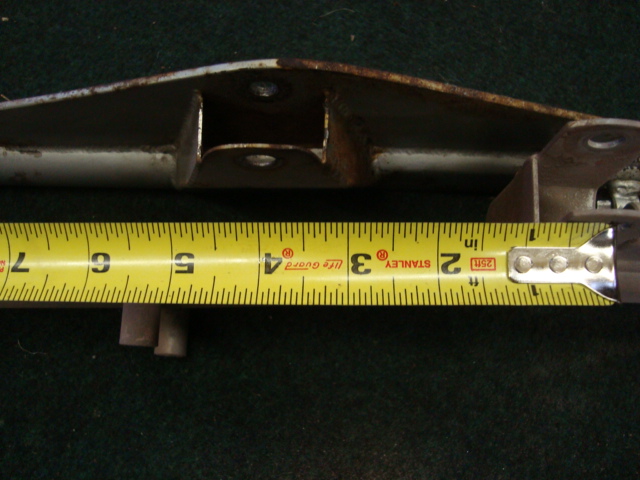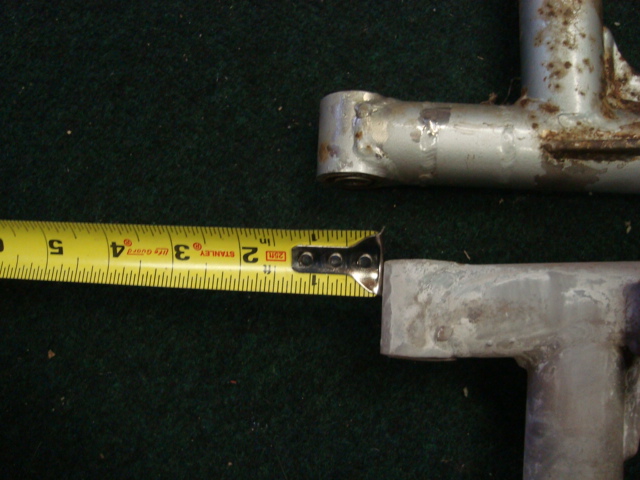 Here is where the frame was stretched. Rear hoop connections were tapered in. Large gusset added.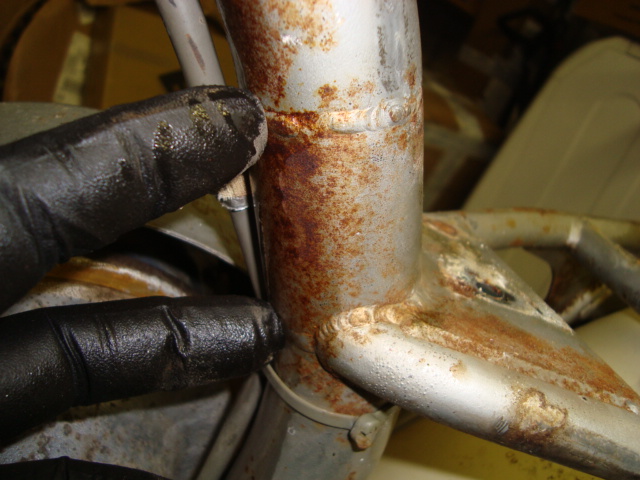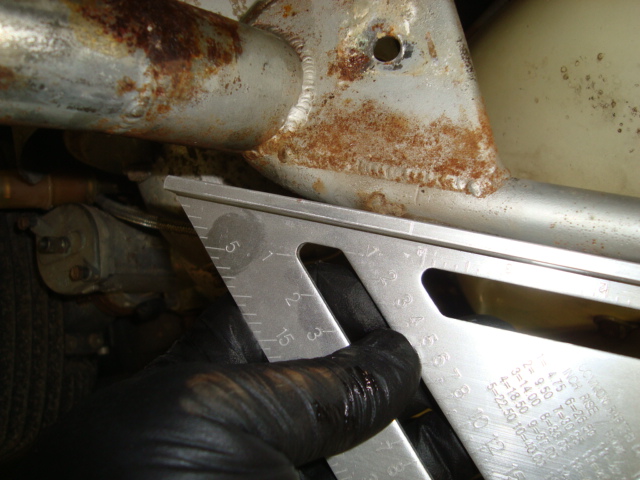 Front down tube lengthened.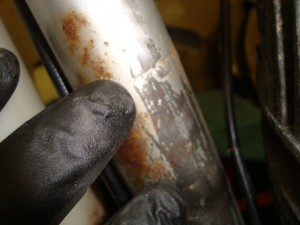 Titanium handle bars raised 1 inch.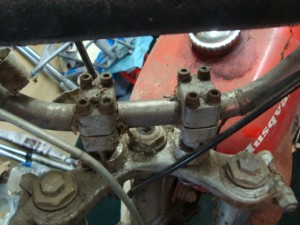 Tripled tree clamps cut to save a few ounces.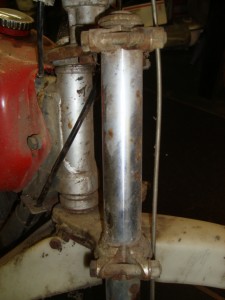 Front forks were turned down to lighten. Almost a 1/4 of inch was taken off the diameter.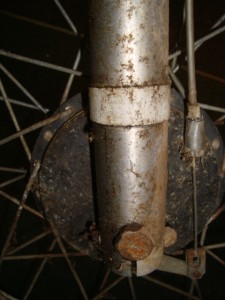 The after market air bell bracket and foot pegs. Don said Edison Dye did sell those type of foot pegs.
More recently found out they may have been made by Camco.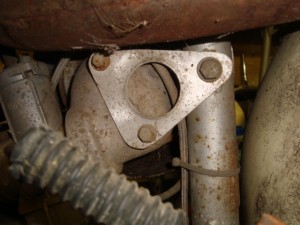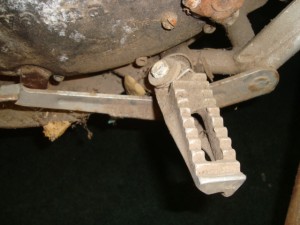 Skid plate. The plate is original but nickel plated. Tabs were welded to the frame to eliminate the original clamp. You can also see this unusual color to the engine side cover and a good shot of the left side oil fill plug.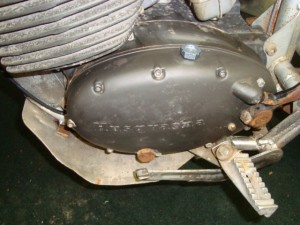 Here I am pointing to where a frame support hoop that goes from both the side rails to down tube that was removed.
Now for the beginning of the clean up.
Swing arm stretched and chain wear strip welded above the mount.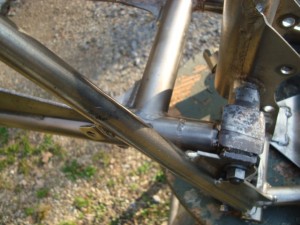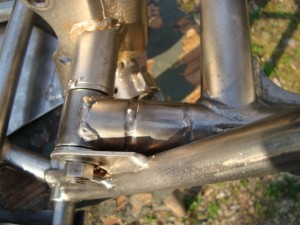 This is where the lower hoop use to go from side to side. You can see the patch on the center of the down tube.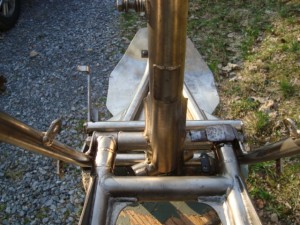 Here you see the frame extended, front tube, rear hoop tapered in and gusseted.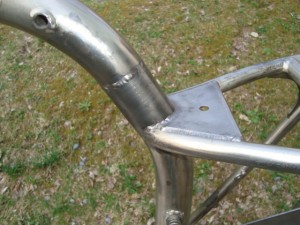 Rear hoop gusset cut and spacer welded in.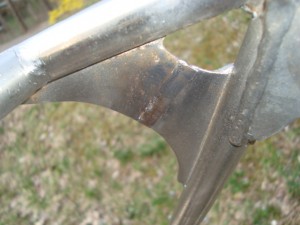 This is a side by side comparison of the Solar frame and a stock frame.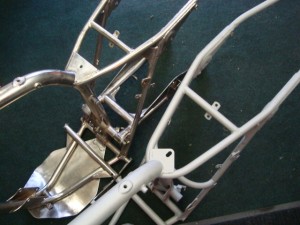 Nickel plated skid pad. Tabs for skid plated welded in and a extra tube in center welded in joint of Y section.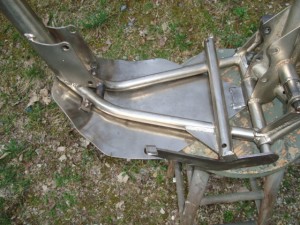 Nickel plated swing arm. Shock mount moved 3 inches forward from the stock location.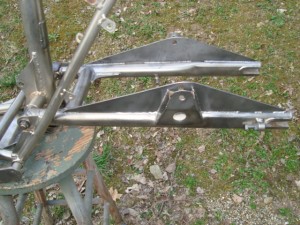 Fantastic old school modifications with a little bling.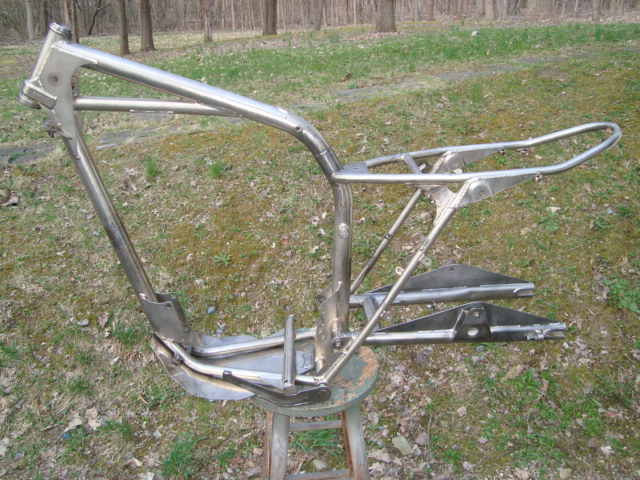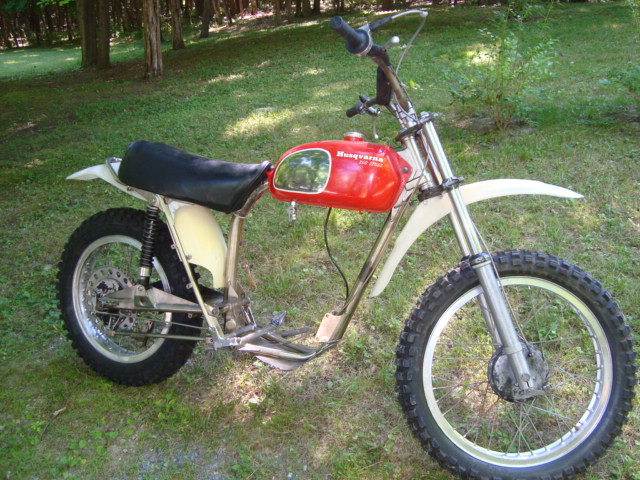 She's finally done and runs like a champ.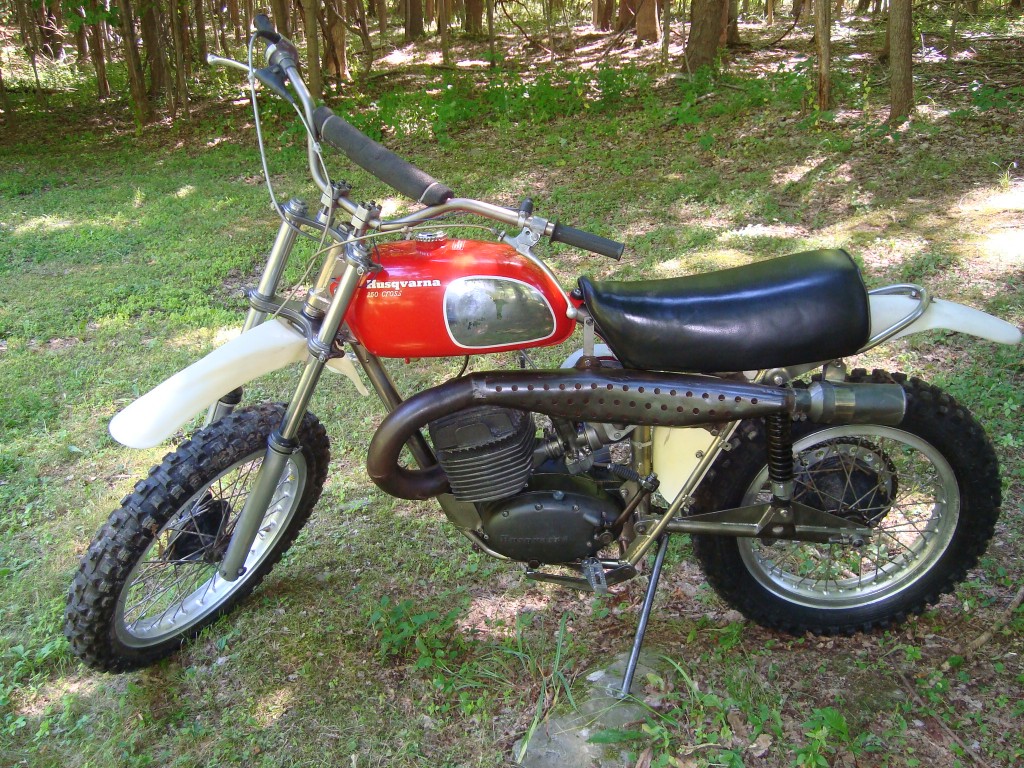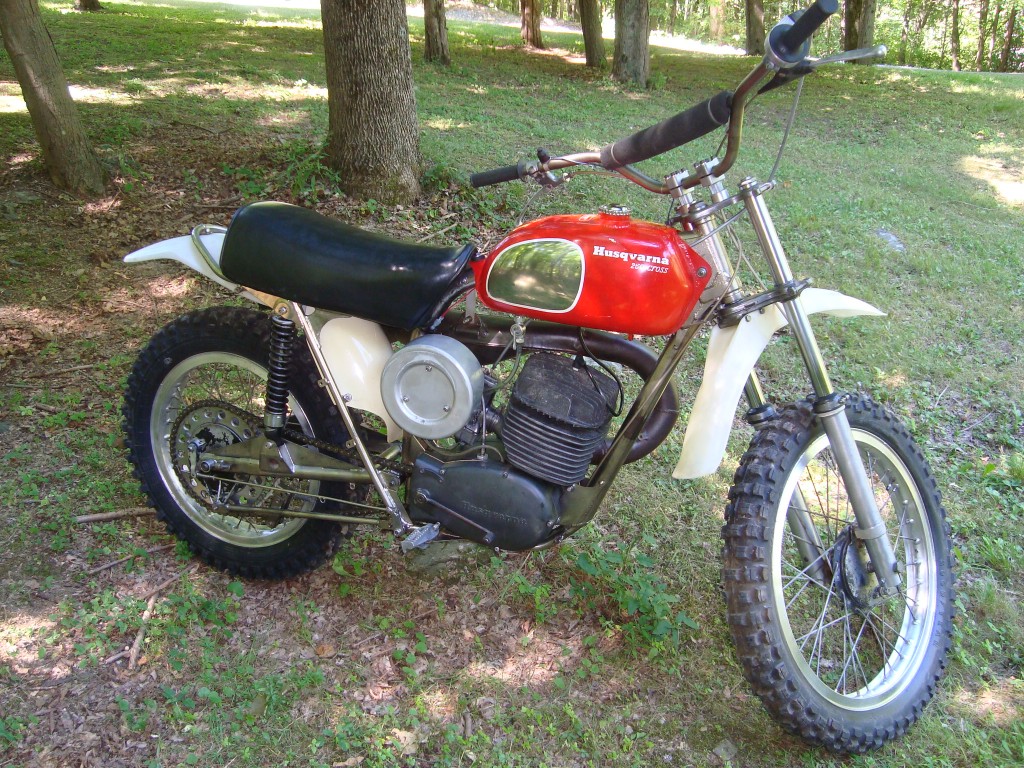 Update: 11/27/2010 Trying to determine who might be responsible for the frame modifications. I contacted Simon Cheney of famous Cheney Racing frames in UK. Simon said that his dad did do a fair amount of work for Steve but it appeared the frame was TIG welded. He said his dad did not use TIG back then for their frames.
Engine restored internally by Rick Horvat – Koni Shocks rebuilt by Koni King, Steve Dorenkamp.
Update: 1/1/2011 Email from Don Rickman. The frame was not modified by them
Update 1/13/2011 Added more evidence from several documents from Edison Dye records to bottom of this page. 1/22/71 being most important with rare titanium bars and other parts matching right up with the bike.
Update 2/13/2011
I finally got around to reviewing a few Edison Dye invoices that I have on this bike. All these invoices are address to Solar Automotive Steve/Don.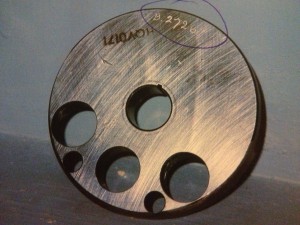 Update 11/30/2012 Found engraved number on crankshaft, not Husqvarna. The number is EG27267 . If any knows of someone balancing cranks in the day.
Update 11/30/2012 Engine dismantled so the case be sent for X-ray, to see if we can get the original engine number off the case. Unfortunately no results. Original number ground down leaving no evidence.
Update 1/27/2013 Spoke briefly with Mike Bihari. His dad is the founder of the CAMCO company who manufacture the grips found on this bike. He also made titanium handlebars, so the ones on this bike, may have been made by CAMCO.
Document dated Jan 8, 1971 is the main document where Solar gets replacement 400 frame.
Invoice 1/22/71 List following parts: Titanium Handles bars – Number plate set – Front and rear AA plastic fenders -Inner Plastic fender Viking vinyl air cover – lever covers and Sub note to Pierre from Edison, Send aircraft hardware from Rohr. Everything but air cleaner cover and number plates are on the Solar bike.
Invoice #012-21 Address to Solar: Tool kit – MH manual – Alloy foot pegs. Foot pegs are on Solar bike
Invoice. Torn and missing # but says Solar on lower left and there are letters in upper torn area showing Don's Mitchell name and part of their phone number.
Parts list: Sprocket – Trailing arm – Chain Guide – Fender rear – Front Fender – Manifold -
Air cleaner cover – Carb complete – Pipe – fuel cock.
The amazing conclusion:
Steve built this bike 9 months prior to John contracting with
Steve shop to simply install a 400 engine into his 1971 Husky 250.
Instead of putting a 400 into John's bike, Steve took this custom 1970 400 cross
he built, painted over the nickel plated frame with silver paint, just like the
original, and put Johns 250 tank on it. He then gave this custom bike,
worth five times John's 1971, without telling John that is was Steve's own bike
and not his original 1971 250 with 400 engine he requested.